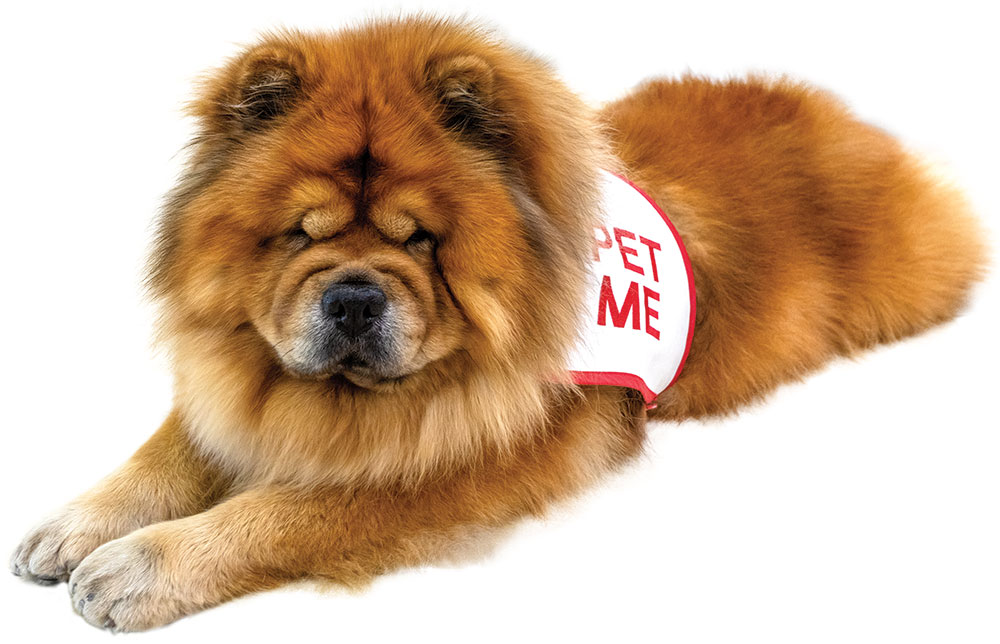 Pet project at Reno-Tahoe International Airport soothes and delights anxious fliers.
STORY BY MEGG MUELLER
PHOTOS BY KIPPY S. SPILKER
Ah, the joys of flying. Beautiful airports with luxurious lounges for all boarding passengers. Communing with fellow passengers over travel tips and the excitement of that long-distance flight. Elegantly dressed passengers dine on sumptuous meals, served by attentive stewardesses catering to their every need. Stretching out, enjoying a comfortable and spacious seat, fluffy pillow, and soft blanket so you can rest before you reach your destination.
Wake up!
Flying may have been like that back in the day, but let's be honest, today it's oftentimes one of the most stressful things we do. While it was certainly losing some of its charms long before 9/11, the events of that day have forever changed our air travel experience. Long lines, security restrictions, nervous passengers, flight delays and cancellations…so many things can contribute to an anxious time at the airport.
At Reno-Tahoe International Airport however, there's a very powerful antidote to all of those nuisances and the worst side effect is you might be left with a few extra hairs.

DOGGIE DREAMS
Paws 4 Passengers is an all-volunteer organization of owners and therapy dogs that visit with arriving and departing passengers, dispensing smiles, hugs, laughter, and pure joy wherever it goes. In 2011, Debbie Harvey, a former airline employee, heard that San Jose International Airport had begun a program where therapy dogs mingled with passengers. The program began shortly after 9/11 and was an immediate hit with the anxious flying public. Debbie knew Reno needed such a program, and on Nov. 26, 2013, three teams (dog and owner) began their goodwill mission.
Today, the program has 30 teams, with nationally certified therapy dogs ranging from bloodhounds to beagles, pugs to poodles, greyhounds to griffons, and nearly everything in between. On big travel days, there are as many as four teams per shift and currently there are two shifts a day. Before the pandemic, they ran four shifts per day. One thing is certain: no matter how many dogs are working, the biggest shift is the one for the passengers.
"It's so simple," Debbie says. "When I first started, a man told me 'this is so pure' and it is. There are no gimmicks; we're not selling anything. It's just so much fun."

I can attest to that. Nevada Magazine Art Director Kippy Spilker and I spent an afternoon at the airport, and the look on passengers' faces when they saw the dogs was priceless. People rushing toward baggage claim or the front door stopped in their tracks and dropped to their knees to pet the dogs. During our visit, we watched as Turbo the chow chow, Hickory the wirehaired pointing griffon, Magic the greyhound, and Fozzy Bear the goldendoodle charmed passengers, young and old.
CANINE CULTURE
Brian Kulpin is the vice president of marketing and public affairs for Reno-Tahoe International Airport and has been a huge fan of the Paws 4 Passengers program since its inception, saying it dovetailed perfectly with the airport's culture.

"It's really about making the travel experience even better for people. 'We move you' is our brand, and it's play on words. We obviously move people from place to place, but we want to move people emotionally," he explains. "It's unexpected and it's fun. It takes the edge off the travel experience, and going back to 9/11 and now COVID, anything you can do to make people happier when they travel is a good thing."
The power of the program goes beyond just bringing smiles, however. I heard stories from the volunteers, Brian, and Debbie about times when they saw the dogs make an unexpected impact.
A woman saw the dogs going through security one time, Debbie recounts, and was quite frightened. Keeping her distance, Debbie asked if the woman needed help, and the woman loudly proclaimed she was very afraid of dogs. Hoping to put her at ease, Debbie began to make small talk, all while keeping she and her pug Happy at a distance. The woman blurted out that she was on her way to end her engagement because her fiancé had a large dog and she couldn't handle it. As she told Debbie her story, she began to inch toward Happy.
After 10 minutes of talking, the woman said she needed to get to her gate. Debbie said, "Ok, but do you realize you've been petting my dog for the last few minutes?" The woman looked down and sure enough, she was petting Happy. The woman was shocked and when Debbie said that perhaps she wasn't as afraid as she thought, the woman agreed. She left for her gate, elated because she'd decided she didn't need to cancel her wedding after all.
MORE PUPPY POWER
Another time, I'm told by both Brian and Debbie, a team with a dalmatian was at the airport when a young boy of about 7 excitedly approached. He dropped to the dog's level, put his arms around his neck, and began talking quietly to the dog. The owner, Paul, attempted to talk to the child, offering one of the playing cards that all the Paws 4 Passengers' dogs have with their photo on it. He heard the child talking to the dog, and realized that the boy was likely a special-needs child.
The parents came over and stood watching the scene in disbelief. When Paul stood up, they didn't say anything, so he finally said "Your son seems to really enjoy my dog. His name is Spirit."
After a long silence, the mother finally said "He has never spoken to anyone before in his entire life. He barely speaks to us."
They offered to buy Spirit right there, but Paul said he would help them to purchase a dog from Spirit's breeder. The men exchanged business cards and as the family was leaving, the dad said, "My son watches one DVD every day: '101 Dalmatians.'"
Debbie says the family did indeed get a dalmatian, and the boy has continued speaking ever since meeting Spirit at the airport.
"There's an impact a dog has when people bend down and pet it," Brian says. "You can see them relax, take a deep breath, and smile."
"When we start a shift, we check the departure board and we always go to the gates that have flights canceled or delayed," Debbie says. "Those people are generally not happy, and we try to help."
Since the pandemic, the teams don't approach people but the dogs wear vests that read "Pet Me" so the intent is clear. The volunteers are always careful to avoid those who have fears or allergies, but for anyone else, the dogs will interact as long as there are people coming to them. It's like an avalanche once the dogs arrive; walking toward a departure gate, you can see the passengers on their phones or reading books or newspapers and there's very little conversation. That changes as soon as someone sees the dogs; people rush over to see the different breeds, talk to the owners, get trading cards, and tell stories of how they have a breed like that one, or how their pups are at home and they miss them. The conversation often flows over from passenger to passenger. The joy spreads, and hopefully, stays with the people long after they leave Reno-Tahoe International.
PETWORKING
The therapeutic effects of Paws 4 Passengers starts with the volunteers themselves. Each person I talked to has their reasons for volunteering with the program, but the common thread was seeing how much people love to visit with the dogs.
Judi Schoppmann is the program's president, and she's been with the organization four years. She got involved because of her love of dogs and today she brings her greyhound Magic with her. Magic was a true greyhound, having raced in 246 races during her 7.5 years of life. It was a traumatic experience, Schoppmann says, and visiting with passengers is a calmer, more fulfilling life for her.
"It was something I wanted to do when I retired with my dogs, so here we are. It's the best job in the world;
I love it," she says. "People often tell me they've never seen a greyhound in real life, and she's so sweet."
Turbo, a chow chow owned by Cindy Wyett is a huge crowd-pleaser with his fantastic mane of hair. He just turned 8 and has been in the program for three years.
"We were doing volunteer therapy dog work, and a friend in this program suggested we apply. He loves people, he just loves doing this," Cindy says.
Hickory is a 3-year-old griffon, who along with her owner Walter Prendergast has been volunteering for a year and a half. Hickory isn't a common breed, so he gets a lot of attention from the passengers, and according to Walter, she's a natural therapy dog.
"She's super with kids," he says. "She really enjoys meeting all the people."
Volunteer Amy Newman never expected to find herself volunteering at the airport with a dog, but after she retired from an incredibly stressful job, she decided to get a dog to help her stress. Enter Fozzy Bear, a goldendoodle.
"I left my job really angry and traumatized," she says. "I got Fozzy because I just wanted something that was really positive and loving."
Someone suggested he should be a therapy dog, so Amy took him to the classes, and they started going to hospitals before hearing about Paws 4 Passengers. Seeing the difference the animals make in the mood of the passengers has been its own kind of healing for Amy.
"Doing this program has been therapy for me, honestly. It's awesome, and for me, it's a different way of serving," she says.
Brian believes the program sets an important tone for visitors to the area.
"We believe we make an important first and lasting impression on our visitors, and part of it is them," he says. "The team is so good, so well trained, so well behaved, and the handlers are so responsible. They've really become fixtures around here. Some of our regular fliers know they'll see them and they come in looking for them."
Debbie notes that when the team took a break at the onset of the pandemic, it was just as hard on the dogs as it was the owners. "It was tough, because the dogs were all used to coming here and seeing people. It was really sad," she says.
While the traveling public isn't back to the levels it was before COVID, for those who are traveling, the sight of the dogs is clearly a welcome one. Nearly every person we saw stopped to pet at least one dog, take a picture, talk to the owners and just smile at the unexpected gift they were receiving. For one woman, it was just what the doctor ordered. Heading to baggage claim, she stopped walking, let her suitcase continue rolling, and threw her arms around Hickory's neck. She visited each dog, spending a long time with each one. She was clearly moved by the experience, and I asked if she'd ever seen anything like it.
"I've never seen dogs in the airport before," she says. "You guys are doing something super wonderful, I love it. This is the best part of 2020. We need more of this."
GET INVOLVED
Paws 4 Passengers partners with many organizations in northern Nevada. To find out how to become a volunteer, learn more about what they do, or donate to the program, visit paws4passengers.org.