Backcountry Lakes
BY MATTHEW B. BROWN
On a hot summer day, there's nothing quite like coming around the bend of a back road and arriving at a pristine mountain lake. "In the desert?," you say? Yes, we specialize in dry and hot, but we also have a multitude of mountains. And tucked away in those lofty Nevada ranges are some beautiful, refreshing bodies of water.
ANGEL LAKE
This natural, high-elevation alpine lake in the East Humboldt Range is accessed via the scenic byway of Angel Lake Road, or State Route 231, and only 12 miles from the northeastern Nevada town of Wells. "It's just a throwback," says Matt Holford, president of the Wells Chamber of Commerce. "You're out here in the desert on [Interstate] 80, and within a short distance you can be at an alpine lake…nice and cool. It's such a great view."
CAVE LAKE
Cave Lake State Park is a year-round recreational mecca within Nevada's scenic Schell Creek Range. The natural lake teems with fish—and whoppers at that. "We regularly stock Cave Lake with rainbow trout in addition to the native brown trout available," says Nevada Department of Wildlife fisheries biologist Chris Crookshanks. "Crawdadding is also permitted." Earlier this spring, two fishermen nabbed 14- and 15-pound German Brown trout, respectively, from its waters.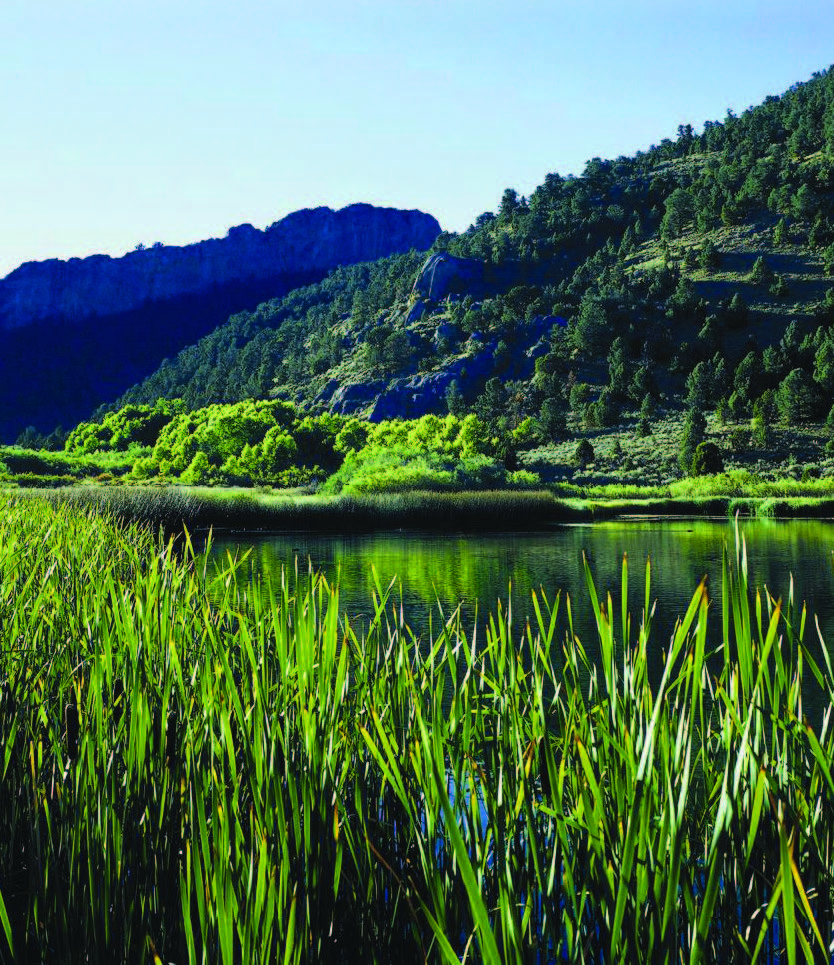 Winter activities include ice-skating, ice-fishing, and cross-country skiing. The park is 15 miles south of Ely in eastern Nevada on U.S. 93 and Success Summit Road (S.R. 486).
MARLETTE LAKE
Marlette Lake was constructed in 1873 to meet the water needs of Virginia City through a network of flumes and pipes. The State of Nevada acquired the lake in 1963, and it was first opened to fishing in 2006. It's one of the few waters in the world that supports Lahontan cutthroat trout.
Spooner Lake, to the south, provides a main trailhead for hikers to gain access to the Marlette/ Hobart Backcountry. The five-mile trail to Marlette via North Canyon Road is popular and affords stunning views in the fall among the aspens. A hiker and horse trail parallels this road for four miles. There is no camping at the lake, but there are three primitive, walk-in sites in the area: Marlette Peak, Hobart, and North Canyon.
HOBART RESERVOIR
As the crow flies, Hobart Reservoir is just a few miles northeast of Marlette Lake, but accessing it—via foot or vehicle— is challenging. Most people drive to the reservoir from Carson City by way of dirt roads, which require fourwheel drive. Still, vehicles cannot drive directly to the lake, so visitors have to hike or bicycle in. Due to its high elevation, much of the lake may still be covered with ice up to early May.
RUBY MOUNTAINS
The Ruby Mountains, southeast of Elko in northeastern Nevada, stand out for their beauty alone, but it's also the abundance of small lakes that make them especially unique in a state that boasts more than 300 mountain ranges. The Rubies were so heavily glaciated during the last Ice Age, they are far wetter than the typical Nevada range. Keep in mind that many of these lakes are frozen from late October to early June—or longer.
The most convenient way to access the Rubies is via the Lamoille Canyon Road National Scenic Byway, accessible from S.R. 227. The road runs southeast from the quaint town of Lamoille and is the access point for two campgrounds and the Ruby Crest National Recreation Trail.
Castle Lake
This 14-acre lake, located on a shelf near the head of Kleckner Canyon, is one of the sources of Kleckner Creek. It's a destination only for the serious backpacker.
Cold Lakes
Consisting of Upper Lake and Lower Cold Lake, these tiny bodies of water lie in the northern Ruby Mountains and are reached via a challenging hike, and it's a difficult trek even on horseback. Numerous Basque carvings exist in the aspen groves of this stretch of the Rubies.
Dollar Lakes
One of the convenient lakes for the casual hiker, this is a relatively easy hike from the terminus of the Lamoille Canyon Road scenic byway. "The Ruby Crest Trail…crosses three creeks on Forest Service bridges," writes Scott Smith in Moon Nevada, before reaching Dollar Lakes at 9,600 feet.
Echo Lake
Bruce Grubbs, author of Hiking Nevada, describes this venture as "a two- or three-day…backpack trip through a rugged, but scenic less-traveled area" of the Rubies. Nearby Box Canyon is filled with majestic aspen stands.
Favre Lake
Reached by the more durable backpacker and hiker, it's been said that in the early morning, this lake reflects the peaks as though it were beveled in glass. A meadow slopes down to its shore.
Griswold Lake
Most hikers will pass tiny Griswold Lake—a great place to take a rest—with larger aspirations to reach nearby 11,387-foot Ruby Dome.
Hidden Lakes
According to rubymountaintrails.blogspot.com, "The Hidden Lakes are a pair of glacial gems tucked up on a bench above Soldier Basin. This hike is quite different from many in the Rubies. For one, it's much lower elevation, meaning that you spend a fair bit of time walking through the dappled sunshine of aspen groves."
Island Lake
The easy, 1.7-mile hike from the end of Lamoille Canyon Road to Island Lake "has wildflowers galore along with tall limber pines," according to trimbleoutdoors.com. It's also a chance to try to spot an elusive and rare bird, the Himalayan Snowcock.
Lamoille Lake
This is a popular destination for day hikers and fishermen, as it's not far from Dollar Lakes. Ruby Crest National Recreation Trail passes Lamoille Lake's eastern shore before beginning a steep climb to Liberty Pass.
Liberty Lake
The Ruby Crest National Recreation Trail runs along the western shore of Liberty. "As you descend, the lake dramatically springs into view, reflecting vertical rock cliffs in the deep-blue waters," writes Michael C. White in 50 Classic Hikes in Nevada.
North Furlong Lake
At the head of North Furlong Canyon, this lake is a common camp for users of the Ruby Crest National Recreation Trail, which passes nearby. It's the primary source for a creek of the same name.
Overland Lake
This is the southernmost named alpine lake in the Ruby Mountains. It's "set in a classic glacial cirque snuggled against the crest of the range," according to Grubbs.
Robinson Lake
Located just south of the shelf of Soldier Basin, this is the source for Robinson Creek, which drops steeply to the east into Ruby Valley. Both were named for a family of early settlers.
Soldier Lakes
The Soldier Lakes are a cluster of more than a dozen glacial tarns in the Rubies.
Verdi Lake
Verdi Lake is unusual compared to its Ruby Mountains brethren. It is the highest lake in the range, meaning it's typically the last to thaw. Also, it does not have a consistent outlet. Lake water seeps into the soil and emerges as a spring several hundred yards down Talbot Canyon.
PINE FOREST RANGE
Blue Lakes are located in the picturesque Pine Forest Range. A bill to make it an official Wilderness Area has reached Congress and will likely be voted on soon. The three lakes (one large lake and two smaller ones) lie above 8,000 feet and can freeze over well into June.
NEAR BLUE LAKES
Knott Creek Reservoir
The Nevada Department of Wildlife website refers to this lake "one of Nevada's most beautiful." It covers more than 200 surface acres and is a fly fisherman's paradise from June through November, when fishing is permitted.
Onion Valley Reservoir
Constructed in the early 1960s as an irrigation reservoir, aspen groves elevate the beauty of this approximately 100-acre lake. Its sister, Little Onion Reservoir, is located a short distance to the southwest.