Casale's Halfway Club
Family passes sauce and traditions through five generations.
STORY BY ALEZA FREEMAN PHOTOS BY ASA GILMORE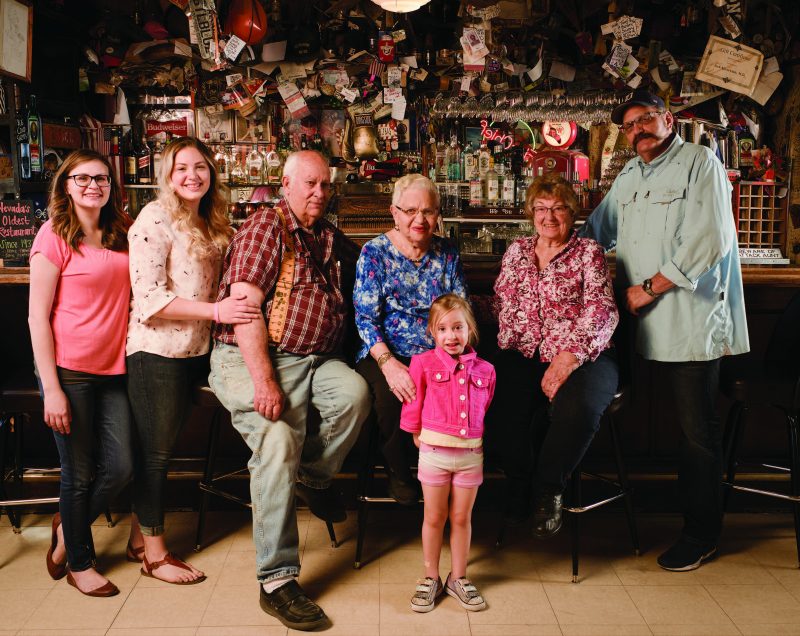 The night "Mama" Inez Casale Stempeck was born at her family's dairy on the outskirts of Reno, her father, John Casale, also welcomed 11 cows.
"He was more excited about the cows," Inez jokes.
Inez is the longtime proprietor of Reno's iconic Casale's Halfway Club, the oldest continuously family-owned and operated restaurant in Reno. Four years later, her brother Jerry came along.

"I tried to sell him for a quarter," teases Inez. She changed her mind about the sale mid-transaction but still got to keep the money.
Decades-old tales and tidbits like these are a dime a dozen at Casale's Halfway Club, celebrating 80 years as a family-run business in Reno this fall. On any given day at the Italian eatery, you could come face to face with family members, and even customers, spanning four of five generations. Jerry and Inez were among the second generation to take the reins at the restaurant. With Inez turning 90 earlier this year, it's the fourth generation's turn to step in and help keep the family tradition alive.
HEART OF THE HOME
Casale's Halfway Club stands at its original location on East 4th Street, once considered the halfway point between Sparks and Reno. Up close, the vintage exterior begs for its moment on Insta- gram, though the road is temporarily rife with construction. Inside, the equally picturesque restaurant oozes authenticity and charm, with countless signatures of customers in black pen on the roof and wall. As Frank Sinatra croons over the speakers, flavorful Italian scents and friendly laughter fill the air.
On this particular day, a handful of family members covering three generations— Mama Inez, Jerry, Bev Cassale, Tony Stem- peck, Haley Stempeck, and Cierra Stem- peck—sit in the back of the dining room at a table with a white and red-checkered tablecloth. They sort through decades-old family photographs—newly discovered— and debate particulars of the family's history; details, which they admit, vary from person to person. Still, there's always one recurring factor: the restaurant.
"This is where my sister re-met her fiancé after they had graduated high school," says granddaughter Cierra. "This is where my boyfriend met my dad and my grandma and my sister for the first time. This is where everything important happens."
"I met my wife here," agrees her dad, Tony. "It's the first place I brought my daughters on their way home after they were born."
Bev adds, "This is where I met him" as she points to Jerry, her husband.
"Everything happens here," says granddaughter Haley. "It's not just a restaurant, it's a home."
The restaurant actually was the family home up until 1980 and serves as a touchstone for all in the large family. Even if they've gone off to do their own thing at some point, "they always come back to their roots," says Cierra.
"I hated it when I was little, and I swore I would never come into this business. But I was always here," agrees Inez.
"It's like 'The Godfather,'" says Tony. "Every time you try to get out, it sucks you back in."
Casale's Halfway Club started with the Great Depression. The Casale's dairy went broke in 1929 but the Italian-American family persevered by opening a fruit stand outside their home. It later grew to include a deli with salami and take-out raviolis. By 1947, the home had transformed into a full-fledged restaurant with seating (1937 is considered the official establishing year). Many family members would continue to live on property until around 1980.
Inez stepped up to the stove when her husband, Casimir "Steamboat" Stempeck, passed away unexpectedly in 1969. Steamboat (as he's still affectionately called) was partner in the business with his brother-in-law Jerry. Inez had six children with Steamboat, and Jerry had six children with Bev. Now there are grandchildren and great-grandchildren.
FOOD, FLAVORED BY FAMILY
Affectionately considered "the boss" by everyone in the family, Inez broke her hip three years ago and is confined to a wheelchair. Still, her granddaughters say she keeps just as busy as before.
"She's not up at the stove, but she's doing everything else," says Cierra. "She makes all the doughs and the garlic bread."
Haley serves as restaurant manager and Cierra as kitchen manager. Jerry and Bev stop in every Tuesday to help make the week's meatballs, hand mixing 50 pounds of beef and hand grinding the veggies.
"We have so many family members who just drop in and help out," says Haley. "We couldn't do it without them."
Apart from the growing family, not much else has changed at Casale's Halfway Club. Even the dishwasher, a 1957 Hobart, was only recently replaced. The intimate dining room was recently painted and only has 10 tables. Meal pay is cash only (an ATM is available, just in case). Jerry and Bev have won first place for their pesto in Reno's Italian Festival, but you won't find that on the menu. Instead, the offerings are simple with basic Italian foods like spaghetti, lasagna, and ravioli with red sauce, all hand-rolled, hand-mixed, and hand-made on site. Only the loaves for the garlic bread come from outside.
"We legitimately only cook what we know," says Haley, stressing that she's not a chef. She cooks the same food her family was raised on.
"Our goal is to keep going another 80 years," adds Haley. "There's a secret ingredient," admits a playful Jerry. "Love."
Though love is all fine and good, the family realized five years ago, for the sake of consistency, they would need to document the restaurant's recipes. Up to that point, the recipes (which Jer- ry says are "taste by committee" and must be "I'll have another" good) existed only inside Inez' head.
"It took us months and months to get the spices down because mom always worked with handfuls," explains Tony.
"If she knew we were watching she got nervous, she would actually start shaking," adds Haley.
"Finally, I came in the middle of the night, weighed all the spices, let her do whatever she was doing and then weighed them again when she was done," says Tony.
Looking at Inez and smiling, Haley teases, "We tricked ya'."
SECRETS WORTH KEEPING
Speaking of tricks, here's another family tidbit. If Inez ever gives you a recipe from her menu of Italian delicacies, don't trust it—it's probably not the real one.
"The last time somebody asked her for a recipe to publish she gave them this recipe we've never seen in our lives," says Cierra as Inez sits beside her, innocently sipping her coffee. "I was like 'Grandma, that's not it,' and she said 'I know.'"
Truth be told, Cierra and Haley say their grandmother would run the place for another 50 years if she could. In an age where family businesses rarely go two generations, she is the glue that has kept it all together.
"She understands that family that cooks together stays together," Jerry says.
That's the hazard of being a grandma, the family says, keeping the family and—in this case the community—fed and happy over the years.
"She's not just our grandma," agree Haley and Cierra.
Inez smiles at the thought.
"Just don't sell me for a quarter," she teases.
MANGIA!
Casale's Halfway Club
2501 E. 4th St. Reno, NV 89512
775-323-3979