Massacre Rim Wilderness Study Area is named fourth dark sky sanctuary in U.S.
BY SHAARON NETHERTON
As the sun sets and light slowly fades from the sky, stars begin to appear and the dark side of Nevada shows itself. Long known for remote and beautiful landscapes, Nevada is now being recognized for its exceptionally dark skies. In March, the International Dark Sky Association designated the Massacre Rim Wilderness Study Area (WSA) in northern Washoe County as an International Dark Sky Sanctuary, only the fourth location in the country to achieve this status and the seventh in the entire world.
HOW DARK IS IT?
The International Dark Sky Association identifies a dark sky sanctuary as a place with "an exceptional or distinguished quality of starry nights and a nocturnal environment that is protected for its scientific, natural, or education value, its cultural heritage and/or public enjoyment." Massacre Rim Wilderness Study Area's night skies represent the darkest of the dark. Visitors can see their shadow by the light of the Milky Way, one criterion for Dark Sky designation.
The 101,000-acre Massacre Rim WSA lies some 150 miles from Reno in the far northwest corner where Nevada, California, and Oregon come together and adjacent to the Sheldon National Wildlife Refuge. Massacre Rim itself is a 1,200-foot basalt rim that towers above Long Valley, a landscape of rock, and rolling sagebrush hills. Flanked by lichen-covered boulders and ancient stands of juniper, the geological wonder that is Massacre Rim appears by turn black, gray, pink, and gold, backlit by ever-shifting sunlight and clouds.

As night falls, the view gets even better, for there is little to no light pollution in any direction. On a moonless night, it can be difficult to identify constellations due to the sheer number of visible stars. According to a 2016 "National Geographic" article, 80 percent of Americans cannot see the Milky Way anymore due to light pollution. Researchers worry that humans around the globe are losing appreciation of the scientific, philosophical, and spiritual benefits of appreciating a dark sky blanketed by stars. Fortunately, Nevada is blessed with public lands where protected places like Massacre Rim will help ensure dark skies will be around for future generations. It is the premier place to discover the awe-inspiring Milky Way and to observe the faint shadows cast by our galactic center.
DON'T BE AFRAID OF THE DARK
The stars in the night sky carry information about the origin of our ancestors' greatest artistic and scientific achievements, and we are only now beginning to understand how important dark skies are for the health and welfare of wildlife populations. Whether it is for the important clues needed for accurate migration navigation or the crucial balance between the nocturnal interactions of predators and prey, dark skies are an important element in the healthy life cycles of Nevada's wildlife.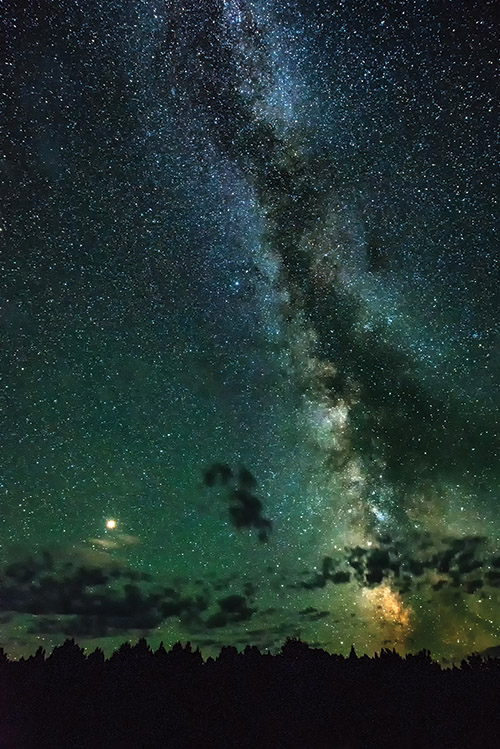 Visitors can reach Massacre Rim via the gravel State Route 34 north out of Gerlach or follow State Route 299 heading east out of Cedarville, California. S.R. 299 turns into gravel State Route 8a at the Nevada border. The Massacre Rim WSA begins where these two routes converge near Vya. S.R. 34 traverses the western edge of Massacre Rim WSA and offers panoramic views. Isolated locations along the other boundaries of the WSA are accessible by rugged dirt roads that require a high-clearance four-wheel drive vehicle. The interior of the WSA is best reached on foot or by horseback. There are no services in this part of the state.