On The Side Of The Road Is The Middle Of Everything
Cold Springs Station offers perfect respite from the road.
BY MEGG MUELLER
"Life moves pretty fast. If you don't stop and look around once in a while, you could miss it." — Ferris Bueller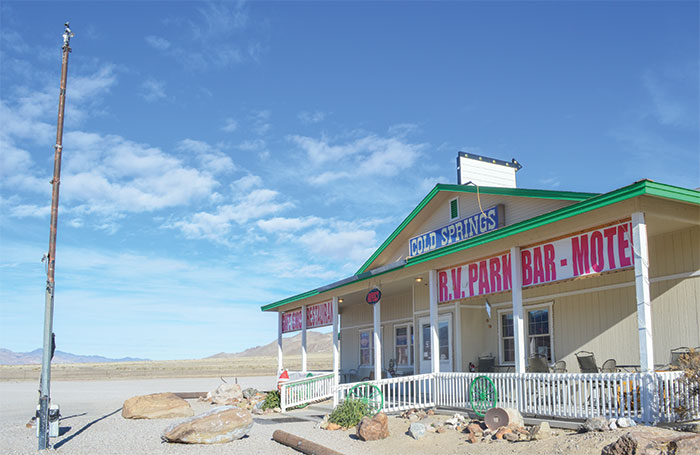 The speed at which life appears to move is so rapid, there's no end of sayings where we acknowledge the importance of slowing down and taking in our surroundings. While Ferris wasn't speaking specifically about Cold Springs Station when he uttered that phrase at the end of his eponymous movie, his advice has never been truer.
Just 50 miles west of Austin on the Loneliest Road in America—U.S. Route 50—Cold Springs Station sits on the side of the road in a long valley. It's easy to think, "let's just keep going," but slowing down to stop in the middle of nowhere will bring great rewards.
A LIVING AND A HOBBY
George and Barbara McNeil have been going to Cold Springs Station for 20 years. Sometimes they traveled there three weekends a month, using the hotel and restaurant as a base camp for hunting and ATVing with their kids. Both retired, the couple decided to follow their passion and bought the station when it came up for sale.
Despite having no experience running a hotel, RV park, or restaurant, the pair was convinced they had what it takes to turn their hobby into a way to make a living.
"We closed escrow on Nevada Day 2017," George says, smiling. "For a couple of Nevadans, that was pretty cool."
Missing the Nevada Day parade in Carson City for the first time in many years, the McNeils headed to the station to get to work. Cold Springs Station's previous owners were content with the status quo, but George and Barbara have plans to put their hobby on the map.
"We want to be known as a destination resort," George explains. "We are the best-kept local secret."
An expanded RV park, store, and a landscaped event and wedding area are just a few of the items on the 5-year plan. The new convenience store should be up and running in early 2018, and a revamped menu is already in the works. New lighting has enhanced the dining areas, and the entire facility has a family-friendly feel.

PERFECTLY PLACED PLEASURE
What won't change is the resort's idyllic location. Nestled between the Desatoya and Clan Alpine mountain ranges, Cold Springs Station is the ideal base camp for hunters and back-road enthusiasts. Myriad trails run in the mountains surrounding the station, and they can be accessed right from the station so off-road vehicles never need to traverse the highway. George has 5,000 miles on his quad, and he estimates at least 4,000 of those miles have been logged in the area around the station.

Petroglyphs, cabins made of ammunition cases and glass, reservoirs, and some of the darkest skies ever await those in search of central Nevada's off-road treasures. George gladly offers directions and advice to the area he's come to call home.
While running the business is a new endeavor for the couple and has come with its share of challeng-es—"We've definitely run out of things a couple times," George notes—the benefits far outweigh the challenges.
"I wake up in the morning and I walk to work. In the evening, I walk home, and get to look at all of this," George says, gesturing to the indelibly Nevada 360-degree view surrounding his home.
STOP AND STAY AWHILE
When you walk into Cold Springs Station, a bright and surprisingly large dining room, gift shop, and friendly bar, decorated with animal trophies hung by local hunters, greets you. The original bar burned in 2008, and the current one was built in 2010. Clean and homey, the atmosphere invites you to linger while the menu is a total invitation to indulge.
As earlier noted, the McNeils are in the process making some changes to the menu, but one thing that won't change is the local meat they get from Fallon. A half-pound burger, affectionately named the "Pony Bob" Express—after one of the area's most famous Pony Express riders—is covered in thick bacon, melted cheese, farm-fresh lettuce and tomatoes. It's enough to cause the famous head bob of my associate editor, Eric Cachinero. In our travels, I've come to learn that after the first bite, a head bob is Eric-speak for "perfection."
Homemade potato salad accompanies my patty melt, which is simply perfect from first bite to last. The potato salad had me at first glance; bits of thick-cut bacon blend with the tang of pickles and the creamy potatoes so well, I find myself scraping the lettuce garnish to extract every savory taste.
Breakfast and dinner are also available, making Cold Springs something of an anomaly on Highway 50. You can get a real meal here just about any time of day. If you're just zipping through, car-ready snacks and drinks are available but I heartily advise you to stop and enjoy a tasty meal. If you're lucky enough to be staying for the night in one of the rooms or cabins, or overnighting in your RV, an adult beverage may be in order. A surprisingly fat selection of beers—domestics, crafts, and more—awaits, along with some delightful wines and an eye-popping choice of whiskey, scotch, and other spirits. If you can't stay, designate a driver because George claims this is a "good Nevada bar."
"You won't need to ask for a double," he says.
TAKE THE TIME
On a mid-January Wednesday, traffic is slow along America's Loneliest Highway, but a handful of folks stop at Cold Springs Station. Some stay for lunch, wandering through the gift shop for mementos of their journey, while others grab a snack and look at the history that lines the walls. Located along the route of the historic Pony Express, memorabilia in cases and along the walls is come by honestly.
Stopping for a meal is the perfect introduction. Ask George and Barbara about the area as you enjoy a hearty dinner, stock up on souvenirs, and dare to try one of George's single-pour drinks. It's a good first start while planning your next visit to Cold Springs Station. There's a lot more here than meets the eye when you're flying by on the highway.
PULL OVER
Cold Springs Station
52300 Austin Highway
Fallon, NV 89406
cssresort.com, 775-423-1233