---
In January 1936, Nevada Highways and Parks—known today as Nevada Magazine—was introduced by the state highway department. The Silver State was hardly the tourist magnet it is now. Legalized gambling in Nevada was five years old, the population of Las Vegas was less than 8,000, and Hoover Dam was less than a year old. State highway publicist and Nevada Highways and Parks editor Fred Greulich wrote a majority of the articles and collected photos that promoted Nevada's open roads—albeit in black and white. Always an information source for Nevada residents and tourists, what started as a digest-sized bulletin has grown into a colorful magazine. Continue reading about the magazine's more than 80 year history.
Nevada Magazine
401 N. Carson St.
Carson City, NV 89701
855-729-7117
775-687-0610
Nevada Department of Tourism
and Cultural Affairs
401 N. Carson St.
Carson City, NV 89701
travelnevada.com
775-687-0647
CUSTOMER SERVICE
For questions regarding your subscription, gift subscriptions, or change of address, e-mail carrie@nevadamagazine.com or call 775-687-0610 or 855-729-7117 (toll free).
EDITORIAL
For Writer's Guidelines, click here. To send a story query or letter to the editor, e-mail editor@nevadamagazine.com.
PHOTOGRAPHY
For Photographer's Guidelines, click here. For further questions regarding photography or artwork in the magazine, e-mail kspilker@nevadamagazine.com.
Megg Mueller
Executive Editor
775-687-0602
mmueller@nevadamagazine.com
Carrie Roussel
Customer Relations Manager (Advertising, Subscriptions, Customer Service)
775-687-0610 | toll-free 855-729-7117
carrie@nevadamagazine.com
Kippy S. Spilker
Art Director
775-687-0606
kspilker@nevadamagazine.com
Alexandria Olivares-Wenzel
Senior Graphic Designer
775-687-0617
awenzel@nevadamagazine.com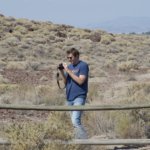 Cory Munson
Associate Editor
775-687-0601
csmunson@nevadamagazine.com