Family leads the way in this oft-embattled town.
BY MEGG MUELLER
A person with true grit is often defined as someone who "sticks to their goals, despite problems, setbacks, and failures." Having true grit means you are tough and determined…you have a steadfast core. In 2019, we are highlighting towns in Nevada that have that core strength. Not all towns in Nevada have huge shiny tourist draws; many exist along the highways that traverse our state but aside from getting gas or grabbing food to go, they are easily overlooked.
Nevada roads go on forever. Small towns appear on the horizon, but are often quickly in the rearview mirror with little more than a passing thought about the town's existence. And while tourism is the state's largest industry—and the focus of this magazine—it is not why all towns in Nevada exist. This year, we honor some of those towns that defy easy description but stand tall in the desert, refusing to give into the sways of economic hardship or the passing of time. These towns bloom in the dirt, and they embody true grit. First up: Battle Mountain.
WHY HERE?
Battle Mountain started life some 20 miles east of its current location, but it was called Argenta in 1868 when the Central Pacific Railroad Company determined it needed a stop between Winnemucca and Elko. The tracks were laid and a town sprung up around it, but in just a few months it was decided the town's location would be better suited closer to the more robust Battle Mountain Mining District. So the town of Argenta, tracks and all, was dismantled and relocated. Most of the people followed, and a new name was chosen: Battle Mountain.
The official naming of the town was never recorded, unfortunately, and while the mining district seems the obvious origin, many stories exist about battles that occurred between the white settlers and the Paiute and Shoshone Indians that had long been in the area. The historical marker from the Nevada State Historic Preservation Office even notes a nebulous, alleged battle in 1850 between California emigrants and Native Americans as the origin of the town's name, but according to Dana R. Bennett, president of the Nevada Mining Association and author of "All Roads Lead to Battle Mountain," the number of stories about battles and the lack of documentation leaves the reason behind the town's name a mystery. 
As Dana's book notes, the name, regardless of origin, is "more evocative of the continuing complicated relationship among the people who lived in and traveled through the Humboldt River Valley than of a specific conflict with recognized combatants."
The history of Battle Mountain—and Dana's book—can be found at the Battle Mountain Cookhouse Museum, which opened in its current location in 2012. The restored 1920s cookhouse is the heart of the town's cultural history, from its native people to the mines and ranches, but also some of the families that have built Battle Mountain from the ground up.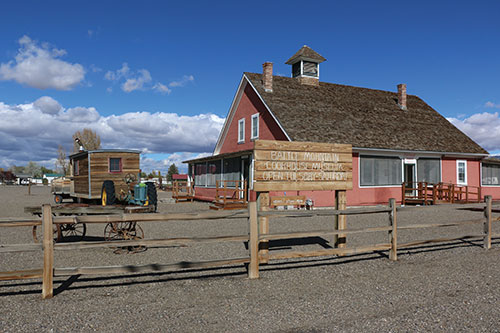 Battle Mountain has ridden the tide of mining's fortunes, and its residents are familiar with the roller coaster nature of the boom-and-bust cycle. But while outsiders may wonder what keeps the town ticking during the bust years when its population dwindles, businesses close, and travelers rarely stop, the people who call Battle Mountain home know the answer—it's them.

DEEP ROOTS
This year, Battle Mountain celebrates its 150th anniversary. For Lori Price, the celebration is doubly momentous. Her family has been in Battle Mountain since her great-great grandfather Auguste Lemaire arrived in 1876, and as director of the Cookhouse Museum—a cultural treasure with big expansion plans for the sesquicentennial—she knows there's reason to celebrate. The Lemaires have been and are business owners and ranchers, and witnessed the town's prosperity when it was a railroad hub for the mines and ranches in the area. They've also witnessed falling ore prices, drought, recession, and financial hardships seriously impact their hometown. But as Lori notes, Battle Mountain isn't a town to bend to the fickle hand of fate.
"We were the railroad hub and when the mining towns like Lewis and Hilltop ended, it was because there was nothing else," she explains. "We are still here because of the railroad, but ranching and farming sustain us."
The land around Battle Mountain is dotted with ranches, most of which have been in the valley for decades if not longer. Paula Tomera is the executive director of the Lander County Convention and Visitors Authority, and her family has lived in Battle Mountain since the 1980s.
"My husband's family is ranchers, and when mining hit hard times, our life stayed steady," Paula says.
She explains how, at one point, the largest bands of sheep and cattle in the U.S.—about 10,000—grazed around Battle Mountain. Her family represents five generations of ranchers, still going strong.
DIGGING DEEPER
Mining is also strong in Battle Mountain, once again. The 1880s revealed substantial deposits of copper, silver, gold, turquoise, and barite in the area. Many mining towns played out their often-short-lived lives, but Battle Mountain survived, allowing mining companies today such as Newmont Mining Corp.—which operates the Phoenix Mine 11 miles south of town—to attract employees to the remote location in Nevada and have a place to call home.
And it's working. Battle Mountain now has a little more than 4,000 residents, which is about 26 percent more people than it did in 2000, according to the U.S. Census Bureau. Many of those new folks are working for the mines, and it's lucrative work: according to the U.S. Census, the estimated median income in Battle Mountain in 2016 was almost $88,000; in 2000 it was less than half that.
"Anyone that wants a job, has a job," Paula says. "The mines are desperately looking for tradesmen."
According to Paula, the mines are very supportive of the town, donating to the schools, employee legacy funds, senior programs, and high school scholarships that sends graduates to school to learn about mining, gives them a job in the summer along with housing, and then hires them for work at the mine. It's a symbiotic relationship for the town and mines, and the county. Lander County receives taxes from the mines, which is critical to small town survival. In 2001, for instance, Lander County received about $1 million in mining taxes, according to the Nevada Department of Taxation. The numbers in subsequent years show the wax-and-wane effect of mining in rural Nevada: 2009, $6.8 million; 2011, $60.9 million; and in 2014, $20.2 million.
Newmont, according to Paula, has a 50-year mine life, so concerns about its viability aren't too pressing today. The economy is booming and the town's infrastructure is shoring up; Battle Mountain General Hospital—a critical access hospital—has been growing and making capital improvements with donations from Newmont, according to Ann Miles, a physician's assistant at the hospital.
"We've had some trouble finding providers," Ann admits. "But we have two new ones that just joined, and we also have great emergency medical services there."
Along with addressing vital resources for the town, the focus for many, including the Lander County Economic Development Authority, is on bringing new businesses to town. As the economy continues to be strong, those who've been here know how that tale can end.
"We're always looking at how to diversify the economy," Paula says.
THE NEED FOR SPEED
In the late '90s and early '00s, Battle Mountain was experiencing a rough patch, it could be said. Gold prices were dropping, development in town was pretty much at a standstill, and the national press didn't have great things to say about the town. Battle Mountain's reputation was pretty much flattened. But flat isn't always bad.
A growing niche hobby—recumbent bike speed racing—was looking for a flat, straight road that could take the sport to its ultimate goal of the highest speeds for human-powered bicycle competitions. They found that road on State Route 305, just south of town. The perfect altitude coupled with an amazingly straight, flat section of highway was all cyclists needed to hold the first World Human Powered Speed Challenge in 2000. It was called the world's fastest bicycle challenge that first year, and for the past 19 years it has grown to an international event bursting at the seams.
"We're packed right now," Paula says. "We can't have more racers come, because we can only close the road 20 minutes at a time."
This year, racers from 11 countries came to seek the title of world's fastest. Paula says there were about 180 participants, plus their teams, and Battle Mountain's approximately 270 rooms and 190 RV spaces were booked solid. Attendees were even staying in Winnemucca and Elko.
Rooms filled to capacity is a great problem to have, but as Paula notes, there's no way to grow the event, as is. She and others in town have been working on that problem and are close to a solution that will allow more racers to come, and equally as important, make the event more spectator friendly. The plan—still under wraps, pending further agreements and financial considerations—will also allow Battle Mountain to expand into other special events.
LIFE IS GOOD
Special events are important to the community, as are the visitors who come for the myriad outdoor recreational opportunities that compliment the typically spectacular Nevada landscape. For residents, the quality of life is what keeps them in town.
"People have said there's nothing for kids to do here," Lori says. "Well I disagree. We're a small town, but here, kids have a well-rounded opportunity to be involved in everything they want to do."
Ken Beaton taught high school in Battle Mountain from 1972-1975. His time in town may have been brief, but his memories remain.
"It was definitely the smallest town I ever lived in," he says. "But I knew I was responsible for my own entertainment, and we would create things to do. The teachers were very involved with the high school teams. When we'd play Eureka—140 miles one way—we'd attend the games.  It was a fun experience, and I missed the kids when I left."
Paula echoes Ken's thoughts when people ask what is there to do in Battle Mountain.
"A few years ago, the town slogan was 'Are you tough enough?' I wasn't sure that was good, but it's true," she says. "Once you're here, if you like the outdoors and you like to entertain yourself, this is the best place in the world to do it."
"We do travel a lot," Lori says about living in a small, rural town. "But it's a great place to come home to."
PLACES WE LOVE IN BATTLE MOUNTAIN
Visit
The Cookhouse Museum
905 Burns St.
Battle Mountain, NV 89820
cookhousemuseum.org, 775-635-8548
Stay
Big Chief Motel
434 W. Front St.
Battle Mountain, NV 89820
bigchiefmotelbmnv.com, 775-635-2416
Eat
Owl Club Casino & Restaurant
72 E. Front St.
Battle Mountain, NV 89820
facebook.com/owlclubcasinoandrestaurant, 775-635-2444
Attend
World Human Powered Speed Challenge
Sept. 8-14
ihpva.org/whpsc, 707-443-8261
Annual Chukar Tournament & Feed
Nov. 1-2
landercountytourism.com/chukar-tournament, 775-635-1112