We honor the ladies, past and present, who have helped shape modern Nevada.
BY NEVADA MAGAZINE
This year—2014—has garnered a lot of attention in the Silver State, and for good reason: it's Nevada's 150th birthday. But the year should also be known for another important anniversary. One hundred years ago, on election day—November 3, 1914—the women's suffrage resolution won in the state by a decisive margin.
Determined women such as Anne Martin campaigned vigorously to earn the victory in Nevada, five whole years before the 19th Amendment granted suffrage on a national level. In fact, March 3, 2014 marks 100 years since suffragists marched on Washington D.C.
In March, as a nation we celebrate Women's History Month, which gives us the chance to pay tribute to the generations of women whose commitments have proved invaluable to society. This year's theme is "Celebrating Women of Character, Courage, and Commitment." Following are the stories of several influential women from different eras of Nevada's history.

MARLENE ADRIAN
Marlene-AdrianBorn: Sept. 3, 1933 in Milwaukee
Nevada Contribution: As president of Women of Diversity Productions, a nonprofit in Las Vegas, she is an advocate for women's history in Nevada.
Marlene Adrian built the Great Wall of Women. Well, it's not called that exactly, but one doesn't have to look hard in her Las Vegas home to find evidence of her passion for Nevada women's history. Her Las Vegas Centennial Wall of Women, consisting of four 10-foot-long nylon panels, tells the story of more than 250 women who shaped the city's first 100 years. "Without women, we [Las Vegas] would not have grown like we have," Adrian says. "Women have been underrepresented in all of the histories."
When Las Vegas celebrated its centennial in 2005, 800 people attended an opening reception at the Las Vegas Museum of Art that featured the wall. Adrian has not rested since becoming president of Women of Diversity Productions, Inc., the motto of which is "respect everyone." Now, she has set her sites on the state as a whole. "It's the sesquicentennial year, 150 years of statehood, and we need to let people know that women have been a very important part of that history," Adrian says.
According to Adrian, she and others will videotape women in every county of the state through August. She also has plans to produce a commemorative book called Nevada Women's Legacy. Adrian, who has lived in Las Vegas since 1996, is also an accomplished athlete and holds a doctorate from Springfield College. A former professor, she has spearheaded leading research efforts on women's fitness and sports.—Matthew B. Brown
WORTH A CLICK
Women of Diversity Productions, Inc.
womenofdiversity.org
Nevada Women's Virtual Center
nevadawomensvirtualcenter.org
HANNAH CLAPP
Hannah-ClappBorn: 1824 in Albany, New York
Died: 1908 in Palo Alto, California
Nevada Contribution: She organized the first private school in Nevada and was the first instructor and librarian at Nevada State University in Reno. She was also one of the founders of the Twentieth Century Club, a progressive Reno women's organization.
Hannah Keziah Clapp was 36 years old, and already an experienced teacher, when she settled on Nevada—where she spent 41 years—as her home. In the early 1860s, she recognized the need for schools in the growing Nevada Territory capital of Carson City. By the time Nevada was granted statehood, in 1864, her Sierra Seminary was a smashing success.
Clapp hired Eliza C. Babcock, a Latin and English teacher from Maine, as her assistant principal. They built a home together in Carson City, and their relationship lasted 35 years, until Babcock died in 1899. The two women made the Sierra Seminary one of Nevada's most outstanding schools, graduating many students who went on to influential positions around Nevada, as well as to prominent national universities.
In 1877, they opened the first kindergarten in Nevada, located in the basement of Sierra Seminary. In 1895, after moving to Reno, they persuaded the fledgling Twentieth Century Club to organize the Reno Kindergarten Association. Reno's first kindergarten soon followed. One of the duo's most famous business transactions was the construction of the wrought iron fence around Carson City's Capitol grounds.—unr.edu/nwhp
ANNE MARTIN
Anne-MartinBorn: Sept. 30, 1875 in Empire City
Died: Apr. 15, 1951 in Carmel, California
Nevada Contribution: She was a leading figure in the women's suffrage movement, as well as an outspoken advocate of international peace and women's and children's rights.
From a young age, Anne Henrietta Martin proved she was extremely ambitious. The daughter of a Nevada senator (father) and teacher (mother), she earned a B.A. degree from Reno's Nevada State University at the age of 19. She founded the Department of History at Nevada State University and was on the faculty from 1897 to 1901.
From there, a decade of international travel and study brought Martin to the cause of feminism. In England, she associated with the Fabian Socialists and affiliated with the Women's Social and Political Union (WSPU).
Meanwhile, in 1910, the Nevada Equal Franchise Society was established with the aid of professor Jeanne Weir, and the first suffrage legislation was passed by the Nevada Legislature. Martin returned to Nevada, was elected president in 1912, and organized the campaign that won women's suffrage with the popular vote in Nevada on November 3, 1914.
Martin became the first female member of the Nevada Educational Survey Commission in 1915 and was president of the Nevada Women's Civic League. Never one to rest on her laurels, Martin was an Independent candidate for the U.S. Senate from Nevada in 1918 and 1920. She did not win the vote, but her powerful rhetoric supported the adoption of the Sheppard-Towner law for protection of maternal and infancy cases.—unr.edu/nwhp
FLORENCE (JONES) MURPHY
Florence-Jones-MurphyBorn: Dec. 13, 1911 in Fernley
Died: Jan. 23, 2006 in Las Vegas
Nevada Contribution: She was the first woman in Nevada to receive her commercial pilot's license, in 1944.
Born into a family of six siblings—five of them boys—Florence Murphy was admittedly a tomboy. "Whatever my brothers could do, I could do, too," she said in a 1999 article in the Las Vegas Review-Journal. "I played with trains and boys' toys." In the early 1900s, planes were viewed as "boys' toys," too, but ultimately Murphy would become a pilot pioneer among women.
She attended the University of Nevada, Reno for two years before meeting and marrying John Murphy, a State Highway Department employee, in 1930. After John was transferred to Las Vegas, both became interested in flying, earning their private licenses by 1938. Murphy received her instructor's license in 1941 and her commercial pilot's license in 1944—the first woman in Nevada to do so.
After WWII put their plans on temporary hold—John was thrust into service—the Murphys were introduced to Edmund Converse, who with partners had established Bonanza Air. Bonanza's first home base was the Murphys' Sky Haven Airport. Bonanza soon built up a fleet of nine planes, and Murphy found herself as the only female airline vice president in the country. She would also pilot many of the runs to Reno. "Believe it or not, I was afraid people would jump out if they saw me flying," she said. "It was a man's world."
After she left Bonanza Air, she went on to a successful career in real estate.—Matthew B. Brown
BERTHA (EATON) RAFFETTO
Berthat-RaffettoBorn: Mar. 15, 1885 in Bloomfield, Iowa
Died: Sept. 6, 1952 in Reno
Nevada Contribution: Her composition, "Home Means Nevada," is the official state song.
Bertha Eaton gave her first poetry recital at age three from her grandfather's pulpit. Two years later, she wrote her first poem. It's no surprise she blossomed into an independent, freethinking woman in an era when the woman's place presumably was in the home.
Her Nevada connection begins when she married Fiore Raffetto, the man she had selected as her Reno divorce attorney to end her first marriage. They were married for 30 years and had one daughter, Frances. "In view of all the places my mother visited and lived in for varying lengths of time, I have no doubt mother felt and meant it when she said, 'Home Means Nevada,'" Frances said upon her mother's death in 1952.
Frances was referring to her mother's classic, "Home Means Nevada," made the official state song by an act of the legislature on February 6, 1933. In addition to her musical talents, Raffetto was a renowned poet and writer in Nevada and was active in club and civic work. She was a fluent speaker and participated actively in Republican politics in numerous campaigns. During the 1930s, she conducted a popular feature, the "Poet's Corner," in the Nevada State Journal.
Raffetto was a 25-year member of the Reno Branch of Pen women, for whom she served as treasurer, vice president, and president. She was poet laureate of the Nevada Federation of Women's Clubs and was awarded the Poet's Parchment by the General Federation of Women's Clubs for outstanding work in poetry. She was also a member of the Reno Civic Club and Nevada and General Federation of Women's Clubs.—unr.edu/nwhp
FERMINIA SARRAS
Ferminia-SarrasBorn: July 1840
Died: Feb. 1, 1915
Nevada Contribution: Her success as a prospector earned her the moniker, "Nevada Copper Queen," and the town of Mina was named in her honor.
Ferminia Sarras came to Nevada some time in or before 1881, which was the date she was first listed on Esmeralda County tax records. Much of her story had been lost until author Sally Zanjani worked with Sarras' great-grandson to reconstruct her past.
In her native country of Nicaragua, Sarras was married to Pablo Flores and gave birth to four daughters. When she arrived in Nevada, Sarras evidently felt her two youngest daughters would be safer in the Nevada Orphans Asylum in Virginia City than at the mining camps of Belleville and Candelaria. Sarras' husband is thought to have worked in those rough mining towns, but he did not remain in her life.
Sarras began prospecting in the Candelaria area in 1883 and went on to file a number of claims on copper mines in the Sante Fe district. She spent a few years prospecting in Silver Peak, but didn't have much luck during the 1890s, a time when Nevada was in an economic depression. She returned to the Sante Fe district in 1899, and it was there that she made her fortune. She often prospected alone wearing pants, boots, and a backpack. By the time she died in 1915, she had made several fortunes on her copper mines, often stashing the gold coins from her sales in her chicken coop where she believed it would safer than in the banks.
Each time she made a profitable sale, Sarras would travel to San Francisco, stay in the finest hotels, shop for elegant clothes, and enjoy fine dining and young men until her money ran out. Then she would return to Nevada's mountains and resume prospecting. Sarras lived mostly at Luning, between prospecting trips.—unr.edu/nwhp
Read more about Sarras here.
HELEN J. STEWART
Helen-StewartBorn: Apr. 16, 1854 in Springfield, Illinois
Died: Mar. 6, 1926 in Las Vegas
Nevada Contribution: A successful rancher and businesswoman and respected historian, she is known as "The First Lady of Las Vegas."
On April 6, 1873, Helen Jane Wiser married Archibald Stewart in Stockton, California. After the wedding Archibald moved Helen to Lincoln County; they settled on a remote ranch at Pony Springs, north of Pioche, and eventually in Pioche. They had three children together during this stage in their lives.
In 1879, Stewart, a successful businessman, loaned $5,000 in gold to Octavius D. Gass, taking the isolated Las Vegas Ranch as collateral. By 1881, Gass defaulted on the loan, and Stewart foreclosed. In 1882, Archibald moved his family to the ranch in the Las Vegas Valley until he could sell it. Stewart profitably operated the ranch, selling beef, vegetables, fruit, and wine to the mining camps in Southern Nevada. The ranch also served as a way station for travelers. Another daughter was born on the ranch.
Then Helen's life took a drastic turn. Archibald was murdered at the nearby Kiel Ranch on July 13, 1884. With four children, and pregnant with her fifth, she had no choice but to learn to operate the ranch until it could be sold. Stewart became extremely proficient as a rancher and a businesswoman. Realizing that some day the land in Las Vegas Valley would be valuable, she began buying land adjacent to her ranch. By 1890, she was the largest landowner in Lincoln County, which at that time included present-day Clark County.
She was appointed the first postmaster of Las Vegas in 1893. The name was spelled "Los Vegas" until 1903. In 1902, Helen sold the Las Vegas Ranch to the San Pedro, Los Angeles, and Salt Lake Railroad. She and her family went to Los Angeles for a period to await the building of a new house. While in Los Angeles, Helen married her second husband, Frank Roger Stewart.
Once she returned to Las Vegas, Helen remained there for the rest of her life, playing an active roll in the community. She helped to found Christ Episcopal Church and was a charter member of the Mesquite Club, formed in 1911. She suggested the name for the club noting the hardiness and usefulness of a tree native to the area. The club is still active today and involved in supporting city initiatives.—unr.edu/nwhp
WORTH A CLICK
Mesquite Club
mesquiteclub.com
BARBARA VUCANOVICH
Barbara-VucanovichBorn: June 22, 1921 in Fort Dix, New Jersey
Died: June 10, 2013 in Reno
Nevada Contribution: She was the first woman elected to Congress from Nevada and the first Nevadan to rise to a position of leadership within the U.S. House of Representatives.
Barbara F. Vucanovich, the first Nevada woman to be elected to federal office, was an Army brat. She spent her early years at various Army posts where her father, Tom Farrell, was stationed. Her school years were spent in Albany, New York.
Elected in 1982, Vucanovich was the first woman member of Congress from Nevada and the first female to represent the Second Congressional District. Vucanovich served on the defunct Committee on Interior and Insular Affairs, important to Nevada because it decided public policy on resource issues, such as mining and grazing.
When she was elected Republican Conference Secretary, she became the first Nevadan to serve in a leadership position in the House. Vucanovich served seven terms from 1983 to 1997, the second longest of any Nevada member of the House. After her death last year, Governor Brian Sandoval said, "Today the Silver State has lost its Silver Lady. Barbara will perhaps forever be remembered as a gracious, personable leader with her feet on the ground and her priorities where they belonged: right here in Nevada."
Vucanovich's daughter, Patty Cafferata—who interviewed her mother for a story in the September/October 2008 issue of Nevada Magazine—is a noted historian and author of seven books, including The Goldfield Hotel: Gem of the Desert.
FEATURE
FIRST LADIES FIRST
Five women come together in Las Vegas to share their experiences living in the Governor's Mansion.
On January 11, First Ladies First—the inaugural event of Nevada Women's Legacy – 150 Years of Excellence —was held at Caesars Palace in Las Vegas. The conversation with five former First Ladies of Nevada was spirited and engaging. "From official hostess, influential confidant, suffrage leader, moral flag bearer, historian, activist, and mother, each First Lady of Nevada has impacted the state in immeasurable ways, to which the citizens, men, and women, have benefited," reads Kim Russell's introduction in the First Ladies First brochure.
The bios that follow are courtesy of Women of Diversity Productions, Inc.
BONNIE (FAIRCHILD) BRYAN
Born: June 24, 1939 in Lodi, California
Years as First Lady: 1983-89
Bonnie Bryan, wife of Nevada's 25th Governor and former United States Senator Richard H. Bryan, served as
Nevada's Official Ambassador for Tourism, one of her husband's top policy priorities, and was Chairman of the Dedication Ceremonies of Great Basin National Park.
She was also a member of the State DUI Task Force, State Literacy Board, and functioned as spokeswoman for CALL, Computer Assisted Literacy in Libraries program, for the Las Vegas Clark County Library District.
While a student at the University of Nevada, Reno, she met Richard, and they were married on September 1, 1962. They have six grandchildren and three children; Richard Jr., born May 10, 1964, a cardiologist residing in the Reno area; Leslie, born Novem- ber 15, 1965, an attorney in Reno; and Blair, born February 5, 1967, an elementary teacher living in Eden Prairie, Minnesota.
DAWN (SNELLING) GIBBONS
Born: Mar. 9, 1954 in Atlanta Years as First Lady: 2007-11
Dawn Gibbons moved to Nevada from Atlanta with a few hundred dollars and a few dreams of her own. However, none included becoming First Lady of Nevada. Dawn graduated
from the University of Nevada, Reno and became an admired entrepreneur with five successful companies operating at the same time. Her interest in community and natural leadership qualities led her into politics where she served the people of Nevada.
Gibbons served in the Nevada Legislature for six and a half years where she advocated for important causes including autism, children's issues, domestic violence, human trafficking, drug addiction, veterans, health, and the military.
Gibbons is the Senior Vice President of Communication and Government Relations for Intermountain West Communications Company that owns NBC affiliates. Dawn's recent media accomplishments include her own radio talk show "Inside Scoop" with Fox News 1270, and the "Dawn and Jim" news segment at KSNV with owner Jim Rogers.
DEMA LEE (LANE) GUINN
Born: 1938 in Olathe, Kansas Years as First Lady: 1999-2006
Dema Guinn was born in Kansas in 1938 and moved to Nevada from Exeter, California. She married Kenny Guinn in Reno on July 7, 1956.
The Guinns moved to Las Vegas in 1964 when her husband Kenny was hired by the Clark County School District. Motivated by her intense interest in the education of her two young sons, she quickly became active in volunteer programs designed to improve the educational opportunities for young people.
Mrs. Guinn worked to increase the awareness of many important issues, especially those concerning women's health. She sponsored an annual First Lady's Conference on Women's Health Issues, which brought together women's advocates from across the state. She led the effort to secure a mobile breast exam laboratory, the Mammovan, to raise awareness and improve access to preventive health care measures for women in the rural areas of Nevada.
KATHRYN SUE (GEARY) LIST
Born: April 7, 1940 in Indianapolis Years as First Lady: 1979-83
Kathryn List was First Lady of Nevada from 1979-1983. She noticed there were few paintings on the walls of the Governor's Mansion and started the Friends of the Mansion, composed of
people from all over Nevada. They raised money to buy paintings and art objects of Nevada, all from Nevada artists and of Nevada scenes. Until they raised enough funds to decorate the Mansion, various Nevadans would display their paintings for approximately three months. In addition to her official role of entertaining and attending many state functions, Kathy made the Governor's Mansion available for tours and various charitable events.
Kathy obtained her real estate license in 1986 and her broker's license in 1990, and was a member of the Association of Realtor's Top Producers Club. Kathy was active in numerous community activities, including the American Red Cross, being a director of the Nevada Women's Fund, a director of the University of Nevada Reno Foundation, and she was on the Friends of the University Library Board of Directors.
SANDRA ANN (SEARLES) MILLER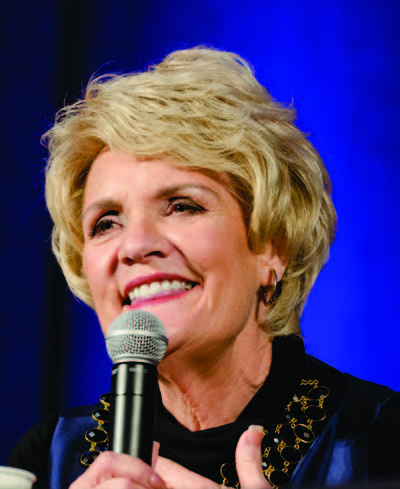 Born: 1949 in Denver
Years as First Lady: 1989-99
Sandy Searles was raised in Las Vegas and attended the University of Ne- vada, Las Vegas, where she graduated in 1971 with a degree in education.
Sandy spent four years as a speech therapist with the Clark County School District. Sandy and Bob Miller married in November 1973. Mrs. Miller was First Lady for a decade, longer than any other Nevada First Lady.
Sandy Miller served on many boards and commissions, including the National Advisory Council for School-to-Work Opportunities; President Clinton's nationwide support plan for educational reform; the White House Commission of Presidential Scholars; the Experimental Program to Stimulate Competitive Research National Science Foundation; McCaw School of Mines; Sunrise Hospital, Las Vegas; and Desert Research Institute.
Mrs. Miller has always given her highest priority to children and improving the education of children. Today she continues to read to children and tells stories to schoolchildren.
CURRENT FIRST LADY
KATHLEEN SANDOVAL
Born: July 13, 1965 in Reno
Years as First Lady: 2011- present
A native Nevadan, Sandoval has dedicated her career to improving the lives of others. Mrs. Sandoval's career has included work as a speech-language pathologist with a focus on
traumatic brain surgery and as a rehabilitation program director for extended career facilities.
Today, an important part of Sandoval's life centers on her work as a program director with the Children's Cabinet in Reno. As the FYI (Family and Youth Intervention) Program Director at the Children's Cabinet, Sandoval works closely with children and youth to reduce school truancy; evaluate mental health issues; support homeless, runaway, and abused children; and prevent family violence.
Sandoval has been married to Governor Brian Sandoval since 1990. They have three children: James, Maddy, and Marisa. Mrs. Sandoval grew up in Reno and graduated from Wooster High School.—firstlady.nv.gov
THE MATRIARCH
BETTE NORENE (HOGE) SAWYER
Born: May 22, 1923 in Baker, Oregon
Died: Sept. 11, 2002 in Las Vegas Years as First Lady: 1959-67
In 1945, the Hoge family moved to Reno, where Bette's father, Earl, be-
came purchasing agent for Harold's Club. He held that position for the next 30 years. Bette was working in Reno when her cousin asked her to go on a blind date with a friend of his who had returned to Reno after WWII. That blind date resulted in a nearly 50-year marriage between Bette and Grant Sawyer.
In 1958, Grant was elected governor and served two terms. The Sawyers moved to Carson City in January 1959.
The project for which Bette will most be remembered will be her tireless research and photographs of all the wives of Nevada's governors. The photographs still hang in the mansion and have been added to as each new governor's wife comes into office. Bette opened that door, and most First Ladies have continued this practice.—unr.edu/nwhp
RECOGNIZING RURAL GREATNESS
A number of women are recognized for their service at a recent event in Searchlight.
STORY & PHOTOS BY NANCY GOOD
What do a teacher, pilot, casino operator, opera singer, beautician, and childhood fan of Circus-Circus all have in common? They are the women recently recognized for their historic and community-changing contributions to three small Nevada towns.
During a year when Nevada celebrates its 150 years of statehood, a humble celebration took place in Searchlight on the afternoon of January 25. Sponsored by Women of Diversity Productions, Inc., this Nevada Women's Legacy – 150 Years of Excellence event honored Women's Contributions to Cal Nev Ari, Laughlin, and Searchlight.
When it comes to the metropolises of Las Vegas and Reno, it's generally easier to spot the women who are making a difference. They're mayors, city council members, congressional representatives, judges, CEOs of major corporations, and the like. But what about the groundbreaking actions of women in the vast rural expanses of this rough and tumble state?
Nancy Kidwell, Verlie Doing, Jane Overy, Cheryl (Crow) Ellis, Dottie Lewis, and Deb Dauenhauer are representative of this special group of women. The list of accomplish- ments by these women is impressive: founding a town; spearheading the construction of community and senior centers, museums and libraries; developing and running a rural transit system (considered the No. 1 rural system in the country); creating programs for children to help them stay fed, clothed, educated, and healthy; building a church; pro- viding legal help to get clear title for people with property claims; development of sewer, electricity, and water systems; creating pedestrian and equestrian trails; and supporting the elderly, the disabled, military, fire, and police departments.
To say this list is merely the tip of the iceberg is no exaggeration. And these women do it with a refined sense of stoicism and humor. Quoting Verlie Doing's granddaughter and namesake who attended the event on her behalf: "Even though she's in rehab for a recent injury, she told Jane Overy, 'Don't worry, I'll be there!'"
This response was in regards to attending the event to honor these dynamic women. This "can do" attitude has been key to every contribution. Rather than asking "why" something needed to be done, they saw what was needed and simply did the work.
Nevada thanks you.