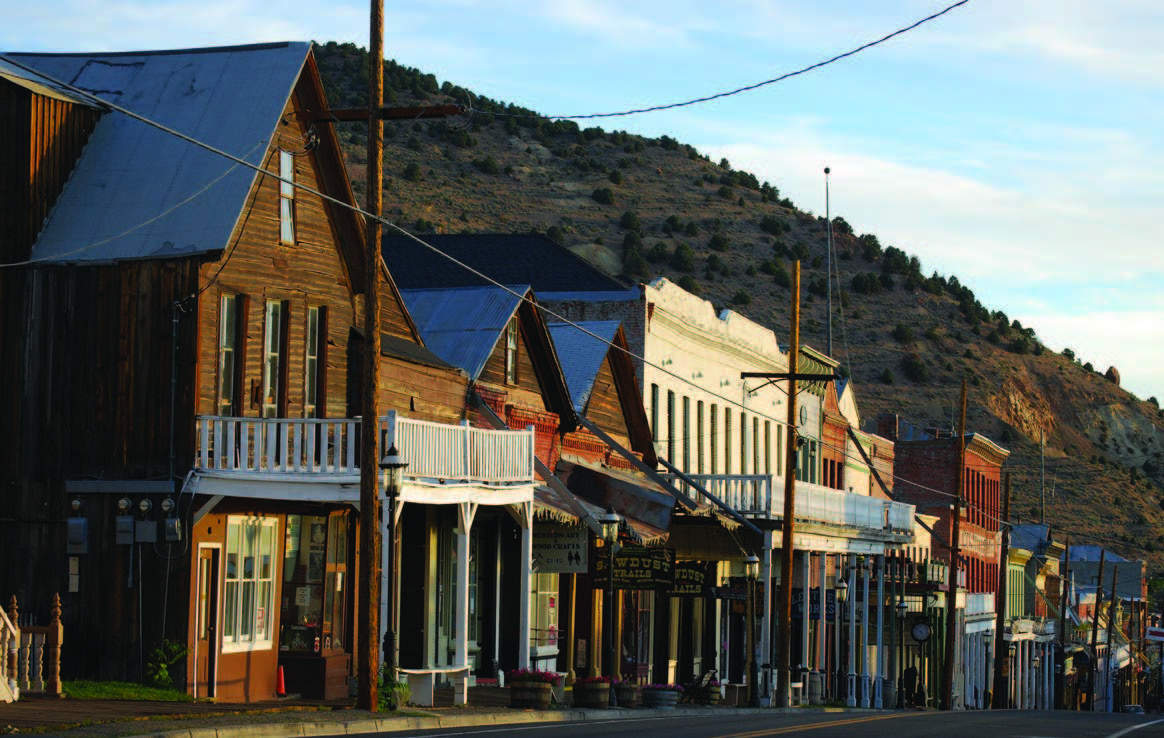 Comstock legend earns landslide victory and frequent visitors from a fresh look at history.
BY MEGG MUELLER
Silver, saloons, mining lore, the Comstock, the Wild West, and Mark Twain. It's likely some or all of these words come to mind when someone mentions Virginia City. The history of this northern Nevada gem is as wild, deep, and important as they come, and not just to Nevada.
Voted the favorite Nevada town during the second round of Nevada Magazine's Tour Around Nevada 2015, this small town was established in 1859 and sits at the base of Mount Davidson, just 26 miles southeast of Reno. At the height of the Comstock Lode bonanza in 1863, the town boasted a population of about 15,000 people. As miners in search of gold and silver poured into the area—including nearby Gold Hill, Silver City, and Dayton—so did the shopkeepers, saloon owners, railroad workers, and more. Bursting at the seams, the town attracted the attention of many who would stake their claim to fame in Nevada, including Mark Twain, John Mackay, and George Hearst.
While the heyday of Virginia City was about over by 1880, in 23 short years it's estimated that more than $300 million was pulled from the surrounding hills, according to Virginia City Tourism Commission. The fortunes made by Mackay and Hearst—among others—not only developed northern Nevada, but were also responsible for development in San Francisco, and even aided in  funding the New York City subway system. Much has been written about how Nevada's wealth helped the country during the Civil War, and it's these connections that most intrigue Deny Dotson, director of the Virginia City Tourism Commission.

"My favorite thing about Virginia City is to follow the money that came out of here, and how some of it was used to build the infrastructure of the U.S.," Deny says. "People don't realize it, but we have about 17 museums here that are not just about Virginia City or Nevada history, but also U.S. history."
Those museums—which are free on the first Friday of each month, May through October—include:
Mackay Mansion: an Italianate-style mansion built in 1860 once owned by both Hearst and Mackay that has been immaculately restored, with tours that reveal little-known area
Historic Fourth Ward School & Museum: an 1876 Victorian school with 16 classrooms. It's the only Second-Empire style four-storied, wooden school building still standing in the S.
Piper's Opera House: built in the 1880s, played host to the likes of President Grant, Buffalo Bill, Al Jolson, and Mark Twain. The restored theater today hosts many performances and special events.
Not all museums are in a building, however. The Virginia & Truckee Railroad offers rides on steam and diesel trains using some of the same route as the trains that ran ore in 1870 when the railroad was first built. Themed rides happen throughout the summer, fall, and winter seasons.
If authentic is what you're looking for, this is the place. Consider the Comstock Gold Mill.
"A giant machine—the stamp mill— breaks up the ore," Deny says of the Comstock Gold Mill. "You're in this building, and on the tour, they start it up and it's almost like Disneyland. You hear this thing getting ramped up…there's a thump thump thump. It's really cool, and you get to see how the gold was processed. Outlaw Dave gives a great tour."
The roads leading to the historic mining town from Reno or Dayton are a favorite of motorcylists; the hairpin twists and turns and panoramic views take on even greater excitement when the sun is on your face.
The close proximity to its larger neighbors can be both a blessing and a curse for visitors, however. The drive from Reno climbs almost 2,000 curvaceous feet in elevation, so for any who want to imbibe and take in the color and charm of the city's saloons, the drive back down is out of the question. The perfect solution exists, however: stay the night. There are about 200 rooms, somewhat surprising for a town with a year-round population of less than 1,000. From incredibly restored B&Bs to rustic and authentic rooms above the town's main street—plus an RV park and modern hotels—Virginia City offers a great place to rest your head after a full day of exploring.
The dining options are often surprising, again, owing to the smaller size of the town and its attention to detail in preserving its historic feel. On the main street boardwalk, you'll find no shortage of tasty burgers, corn dogs, and the like, but delve a little deeper and you'll find some incredible cuisine. For 10 years, Café Del Rio has served its "Out West Cuisine" to great reviews, and more recently, The Core—which moved to a new location at the Gold Hill Hotel—rivals any fine dining you'll find close by. The Mustang Ranch Steakhouse & Hunters Lounge is a family friendly place that caters to carnivores.
Listed on the National Register of Historic Places, Virginia City delivers an immense blend of history, fun, and adventure. Annual events such as the International Camel Races, World Championship Outhouse Races, and the Rocky Mountain Oyster Fry all speak to how seriously Virginia City takes its fun. While a number of Virginia City's attractions are seasonal, the town's appeal and charm can be felt 365 days a year.
IF YOU GO
The Ye Old Virginia City mobile app provides visitors with information on this historic town's saloons and restaurants, its quirky special events, lodging, a historical audio tour of 32 attractions, webcam of C Street, area map, weather, and the ability to check-in on social networking sites. The app is available for iPhone and Android.