Motorcycle Madness
The true flavor of Nevada comes alive on two wheels.
STORY & PHOTOS BY SYDNEY MARTINEZ
Having gone through, in, up, over, and around the Nevada backcountry on four wheels, I had decided that was just about enough. It was time to switch things up and check out the great state of Nevada on two wheels and with the help of the man who taught me the art of traveling right. Our chariot for the week would be 70 horsepower of rumbling, chromed out, sexy Americana.
1,412 MILES
Reno to Beatty via US 95, 335 miles
Beatty to Fremont Street, 175 miles Death Valley, Pahrump, Blue Diamond
Fremont Street to Boulder City, 140 miles Goodsprings, Primm, Searchlight
Boulder City to Alamo, 172 miles Hoover Dam, Lake Mead Scenic Byway, Valley of Fire
Alamo to Pioche, 161 miles ET Highway, Kershaw Ryan State Park, Caliente, Cathedral Gorge
Pioche to Ely via US 93, 109 miles
Ely to Reno via Highway 50, 320 miles
During seven pleasantly hectic days, my dad and I took the trip of a lifetime through the Silver State. Four ghost towns, one national park, four wildlife sightings, seven biker bars, six hotels, two national monuments, four iconic highways, three Nevada State Parks, one snowstorm and 1,412 miles later, we had made it. And I only burned my leg on the exhaust once. Seeing and doing all so many life-altering things would be too much to hash out individually, so here are a few places I would be sad not to mention.
Departing from Reno, we had a long day of riding (about 340 miles) before calling it a night in Beatty. Heading south on U.S. Route 95, we ripped through the beautiful high desert landscape before reaching Tonopah Brewing Co. for lunch. With not much time for tomfoolery, we jumped back on the bike, rehydrated with the "meanest bartender in Nevada" in Goldfield, and blasted south for the remainder of our day's journey.

As we dropped into Beatty, the landscape had morphed from serene alpine lakes and untouched snowcapped peaks to the trance-inducing mystique of the Mojave Desert. I suspected we might see my favorite animal, and we did: wild burros! Cruising through town, we spotted our hotel, which doubled as the most unexpected delight of the trip: The Atomic Inn.
The mere fact it was a roadside inn knocked it over the fence…I can't tell you how important it is to have your bike close to your room. Then add retro vibes with a side of Nevada zaniness and you're batting 1,000. Not far from the actual atomic bomb test site at Nellis Air Force base, this fine and funky accommodation was amazing. A cool, quiet place with a heaping side of Nevada culture? Just what the doctor ordered.
With the first day in the books we awoke re- invigorated. We spent the afternoon in Death Valley, then crossed back over the state line and hung out in Pahrump and then spent the night on Fremont Street. On day three we rode to the Pioneer Saloon in Goodsprings, a place on my list for far too long. The Ghost Burger turned out to be the best meal of the trip, with quite the historical snack as the cherry on top.
Tom, the bartender, showed me around, pointing out unbeliev- able historical snippets like the original wooden Brunswick bar, bullet holes in the tin walls from a rowdy card game, and the ciga- rette burns in the bar left by Clark Gable as he nodded off waiting for news of wife Carole Lombard's search party. Crazy.
We still had some miles in front of us and hit the road for Primm, Searchlight, and back up to Boulder City, where we would kick off our boots for the night. Although it didn't take the cake for the most fun road to ride, the surreal Joshua Tree Highway (State Route 164) was a close second.
Before long we were navigating underneath Boulder City's his- toric downtown archway, marveling at the art deco mastery. With some of the coolest neon in the state buzzing around me, I was reconsidering my hotel for the evening. That stopped with one look at the Boulder Dam Hotel.
This perfectly restored hotel was like time traveling to the 1930s. The thoughtfully decorated lobby made me feel like I might bump into former guests Shirley Temple or Will Rogers, and was the per- fect preview for my room. After cooking on the back of a motorcycle for a few hundred miles, you just want a fine shower and amazingly comfortable bed. And that is what secured Boulder Dam Hotel as the most restorative stay of the trip.
I probably slept better than Elvis did after his third encore. Bright eyed and bushy tailed, we met in the lobby for our complimentary made-to-order breakfast before hopping on the bike for the fourth day. Hoover Dam, here we come.
We took the tour, and enjoyed the dam for hours. So much to see and learn about this colossal wonder. Riding over Hoover Dam on a motorcycle almost felt like we were on a movie set. And for a second, we were a part of its magnificence, but the stretch of road that was the most fun to ride was the Lake Mead Scenic Byway.
We were in hot pursuit of Valley of Fire State Park, and it was a total no brainer to take this perfectly paved paradise. Long sweep- ing curves carried us up and down over rolling hills, allowing us to use all three sides of the tire. Gentle turns to the left, back to center, and slight leans to the right on top of freshly laid asphalt was pure bliss. Completely calm and immersed in the landscape, we were fast approaching Valley of Fire as brilliant streaks of coral rock formations splashed the canyon walls like paint splattered on a canvas. We entered state park boundaries and the cant-believe- it's-real landscape was all consuming. Few words can describe how truly extraordinary it was, which means it must be ranked as the most scenic section of the journey.
I was feeling pretty sad that we'd seen very little wildlife, but we'd gotten wind of some serious weather closing in on us and needed to get moving. Taking one last sip of water, I nearly choked when I saw a perfectly silhouetted bighorn sheep, posing for me on a rid- geline. Busting out my DSLR, I was able to snap this bighorn magic moment. Make Valley of Fire the most scenic in tandem with best wildlife-spotting experience.
Surrounded by a series of freakish rainstorms, we sped north on U.S. 93 to Alamo. We skirted the lush Pahranagat Valley, pray- ing that deer wouldn't jump in front of the bike. Thirty nail-biting minutes later, we made it to our hotel and passed out.
I had been chomping at the bit to start the fifth day for one rea- son: The Extraterrestrial Highway. I hadn't been lucky enough to traverse it before, and the chance to do it on two wheels with my dad was a dream come true. The absence of other travelers allowed us to hone in on the unsuspecting beauty of expansive valleys pep- pered with Joshua trees. And those clouds; good grief they were perfect.
Sure, there could have been little green men lurking about, but other than us and the cows, we were the only ones there. We decided to take advantage and pulled over for the best only-in-Nevada experience of the trip. We [safely and respon- sibly] snapped a few photos while lying right in the middle of the ET Highway. Where will you ever have another opportunity to do some- thing this wacky?
It was a super windy day, but we made it to what was the very best roadside stop of the trip at Ker- shaw-Ryan State Park. With tasty snacks from ET Fresh Jerky and a perfectly shaded picnic table, this visit was a slam-dunk. The quietness and untouched natural landscapes made me wonder why this fern gully of a state park continues to fly under the radar. Rested and with full bellies, we headed to our final stop of the day: Pioche. We checked into the Overland Hotel & Saloon in Pioche, cleaned up, and headed down to get some grub. With just about everyone exchanging friendly conversation with us, the Overland Hotel & Saloon easily earned its spot as the best joint to rub elbows with the locals.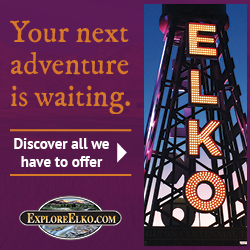 The next day was a long, teeth-chattering, soggy 109-mile trek to Ely, but we made it. We had to drive a white-knuckling 30 miles an hour through a car's snow tracks on Connors Pass. Several bowls of chili and mugs of hot cocoa later, we were still frozen to the core and reluctant to hop back on the bike…especially because it would require us to cross several more possibly snowy summits.
So, we made the phone call no motorcyclist ever wants to make; we called in the reinforcements to trailer the bike back to Reno. That means the most unexpected plot twist definitely goes to the weather disaster in Ely.
The next morning, we hitched up the bike and set off toward home. Sure, I would've much rather been on the bike, but riding in a safe warm car gave me the time I needed to reflect.
Nevada is land-rich. And through it all, the way the landscape transformed was positively remarkable. One day it was yucca plants, Cholla Cactus, and 100-degree temperatures; the next it's 13,000-foot peaks and snow. The fact that I was not just seeing it through a window, but as a part of the landscape…it got into my blood and changed my perception of the state forever. And to ex- perience it with dear old dad? Game over.
---
GET YOUR MOTOR RUNNING
To read Sydney's complete adventure, visit nevadamagazine.com/motorcyclemadness
To plan your own trip, pick  up  a  copy  of  Nevada Magazine's  2016   Rides  Guide  at  motorcycle  rallies  and car shows around the  state,  at  our  office  in  Carson  City,  or email  editor@nevadamagazine.com  and  we  can  mail you one.