Blue Diamond posed a rough start, but restaurant aims to be a community jewel.
BY KRISTA DIAMOND
It's dusk in the tiny desert village. Through a canopy of cottonwood trees, crimson mountains turn purple in the falling light. Wild burros cross the parking lot of the gas station, which also serves as the town's general store and sheriff's department. Less than 20 miles away, rows of jingling slot machines and miles of concrete are towered over by neon signs.
These two worlds are somehow both located in Clark County. The latter is the Las Vegas Strip and the former is Blue Diamond which is home to Cottonwood Station Eatery—a culinary outpost tucked deep inside Red Rock Canyon.
FILLING A VOID
Cottonwood Station Eatery's April 2018 opening marked the first new commercial construction in Blue Diamond in decades. The 3,250 square-foot restaurant, which offers both indoor dining and a dog-friendly patio complete with a fire pit, serves tasty fare including paninis, thin-crust pizzas, salads, and frittatas, plus espresso, fresh lemonade, beer, wine, and cider on tap.

Cottonwood Station Eatery was created by Blue Diamond residents Steve Enger and Jody Lyman. The couple has lived in the town of 290 residents for 12 years. Originally from Seattle, Steve moved to the area in 1992 to live near the cliffs of Red Rock Canyon.
"I was rock climbing full time," Steve says. "Working, but mostly climbing."
Jody is a Napa Valley native who brings her California influence to the restaurant's menu. The inspiration to create Cottonwood Station was born out of practicality. Steve and Jody wanted to open a restaurant in their new hometown simply because no one else had.
"We would wake up and say, 'I wish I could go get a muffin and a chai tea right now without getting in the car and hauling into town,'" says Steve.
They were also interested in offering Blue Diamond a de-facto town meeting space to bring the population of outdoor enthusiasts, artists, and descendants from the town's original mining days together.
"The whole concept when we started this was to keep it simple and keep it clean," Jody says of creating the menu, which focuses on fresh ingredients.
Cottonwood Station Eatery uses locally sourced items from the nearby Sandy Valley and does not have a fryer, a flat top, or any decadent, greasy food. The baked goods and the restaurant's signature bread pudding are made in-house. The menu includes a pancetta fig pizza with balsamic drizzle, a panini filled with bacon, cheddar, tomato and béchamel; and a blackened broccoli salad with peanut sauce. In the morning there are waffles with plump blueberries and multigrain toast topped with ricotta cheese, apple slices, walnuts, and honey.
"On the weekend, we'll have a line out the door and Jody will bring out a whole rack of fresh baked muffins," says Steve, who speaks fondly of the restaurant's homemade chocolate chip cookies as well.
"Jody brought those into my life when we got married," he says. "And now they're here."
Other popular items include pepperoni pizza made with the creamy, savory addition of béchamel sauce; soup made in house; and the recent addition of chicken wings, which are baked rather than fried.
NOT IN MY BACKYARD
On a brisk February evening, Cottonwood Station Eatery is populated by rock climbers eating beet salads, cyclists huddled around the fire pit with wine, and local residents stopping in to order margherita pizzas to take home. It's hard to imagine that the restaurant wasn't always a fixture of the community, but getting it off the ground was a long process for Steve and Jody, who describe numerous county commission meetings and pushback from Blue Diamond residents.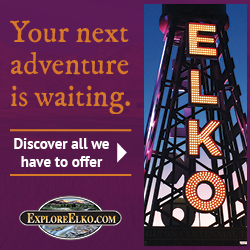 "It was a game of telephone," Steve says of the rumors that circulated Blue Diamond when planning began. "Some people would come in and say 'We don't want a bar with whiskey and gun shooting and people fighting in the street' or 'We don't want drunk people driving around town.' So it was constant countering to get the truth out."
At one point, some residents circulated a petition against the construction of a restaurant in Blue Diamond.
"During the process we were asked to sell this property a few times," says Steve. "A couple of times we thought, maybe it's easier if we just let it go and don't argue and fight and have to sell our idea to everyone. But then we thought, this is our home and that is not going to change. If we just sell this property, someone is going to build something that's not acceptable to residents or to us. If it's going to change, we want to be part of that change and help steward the change into something that we're proud of."
To prove their commitment to Blue Diamond, Steve and Jody took steps to honor the concerns of the town. They removed windows from one side of the building to eliminate light pollution, built the patio so that sound would resonate away from residences, and created signage discouraging diners from parking in front of homes. The couple even offers delivery via golf cart to village residents. Jody, who is a member of the local board and history club, curated and displayed photos of Blue Diamond from its mining days.
"We really wanted to do something that would make Blue Diamond shine," she says.
"There were wagons that went down this road," says Steve. "That was the Spanish Trail. This was Cottonwood Spring. This was a stop on so many people's dream of going to California. So we tried to collect as much history as we could."
KEEPING THE PAST IN SIGHT
In addition to the black-and-white photos on display, Cottonwood Station Eatery also utilizes a rusted truck that's been in town since the early 1950s as a table for eight diners. The wood of the restaurant itself, which was recycled from the original 1938 structure, also holds history.
"We tried to grab details of Blue Diamond and put them in here," says Steve. "We really hope Cottonwood lasts so we can keep expressing that to our community."
The couple believes the majority of the households that signed the petition against Cottonwood Station Eatery have been converted into fans. Steve and Jody are still hoping to please the remaining few who haven't embraced the restaurant.
"You can't please everybody, but we're sure trying," says Steve.
This year marks their one-year anniversary—a major milestone for any restaurant, even those that aren't located in small towns surrounded by desert wilderness. When looking to the future, Steve and Jody imagine live bluegrass music on the patio, outdoor barbecuing, and events that attract newcomers while honoring the community that already exists in Blue Diamond. In their opinion, Cottonwood Station Eatery has succeeded because it is the antithesis to the neon lights and gold-plated glamor that defines the culinary landscape of the Las Vegas Strip.
There are no flashing signs prompting drivers to pull off  for drinks and dining, and there is no corporation dictating the menu. There is just Steve, Jody, the burros, the canyon, and the community.
"It's a great thing—summer evenings on this deck—when it's 110 in Vegas and it cools down to high 90s, right below body temperature," says Steve. "It's amazing to be out here and have wine or beer or coffee and just hang out. You can't see Vegas. You can't see the lights. You just see limestone mountains."
DIAMOND IN THE ROUGH
Cottonwood Station Eatery
14 Cottonwood Drive
Blue Diamond, NV 89004
cottonwoodstationeatery.com
702-875-4332