Annual Basque pilgrimage brings food, fun, and friends together for tasty trek.
BY STEVE BASS, LARRY ERREA, AND MARK MESKE
Twenty years ago our intrepid group began what has become an annual pilgrimage to the National Basque Festival in Elko. Along the way the intent was, and still is, to sample as many Basque meals and to taste the unique nuances of picon punch poured at as many Nevada dining establishments as possible. That first journey was chronicled in the August 1998 issue of Nevada Magazine.
The 2017 trip started in Bakersfield in late June. The drive up Highway 395 is especially spectacular, thanks to all the streams and lakes in the Sierras and Owens Valley that are full from the runoff of last winter's exceptional snows. In addition, road conditions have improved in 20 years, growing from a dangerous two lanes to a comfortable, four-lane highway for most of the drive.
DAY ONE: TRIED AND TRUE
Our first stop is always Gardnerville and in years past we have had a Basque-style lunch at the Carson Valley Country Club and many meals at the historic Overland Hotel. The Overland is no longer Basque as owner Elvira Cenoz retired several years ago after operating the establishment for more than 50 years.

This year our destination is the J.T. Basque Bar and Restaurant. Located on Highway 395, the building was brought to its present location from Virginia City in 1896 and Jean and Shirley Lekumberry along with Jean's uncle, Pete, purchased the structure and business in 1960. The Lekumberry's children now run it and daughter Marie greets us while we have our first picons. The bar at the J.T., as well as those at most Basque dining establishments, is well lit and family-friendly. The J.T. has lost none of its Basqueness or charm in the 20 years since our first visit.
At the J.T. the lunch can be a sandwich or a full meal. We order "small" and have the lamb shoulder steaks. They come with a crispy house salad, bread and butter, and French fries. The salad is fresh with a tangy dressing and precedes six large, delicious steaks smothered with garlic. Portions are plentiful, prices are reasonable, and the service is friendly. This is an excellent beginning.
We head to Reno via Minden and Carson City. Carson City is home to the Villa Basque Deli and Café, which wasn't in existence on our first trip. Owned by Pete and Martha Coscarart, it is famous for its awesome homemade chorizo. We have eaten here before, but today we make our way straight to Reno. Driving conditions from Carson City have also changed with a newer freeway into Reno. The route cuts time off the trip and is safer than the old two-lane sections.
MORE PICONS, PLEASE
In Reno, we stay at the Eldorado Hotel because of its close proximity to the two Basque restaurants in town. This evening we visit the Santa Fe Hotel for dinner. The Santa Fe is one of Reno's original Basque hotels and is located on Lake Street surrounded on three sides by Harrah's. Across the street is the Reno Aces' ballpark. The Santa Fe was owned by the Zubillaga family for decades until it was recently sold. The new owner plans to keep it Basque, and won't change anything other than some of the décor.
Entering the bright and open Santa Fe bar, we recognize the very competent and friendly bartender and she pours our first picons of the evening. Picon punch is a uniquely Western American drink not found in the Basque Country. Originally, the drink was made from a French liquor called Picon. Today, picons are poured with Torani Amer, a less expensive and more readily available aperitif. The recipe includes a small dash of grenadine, two ounces of Torani Amer and a splash of soda water. Stir and add a brandy float and lemon twist. Sip it slowly as picons pack a serious punch.
At the Santa Fe, the nightly menu is posted outside the dining room and always has plenty to choose from. Because seating is family style, you may be seated with other folks. Perfect. Make new friends and enjoy the copious amounts of food. The three of us order oxtails and pork chops as our main dishes. Also available are steaks, lamb chops, and lomo (pork loin) with roasted red peppers. Included with the meal is bread and butter, salad, bean soup, fries, spaghetti, and broccoli with cheese sauce. All is delicious and far more food than the three of us can finish. We decline the cheese or ice cream for dessert and call it a night.
THE MAIN EVENT
The next morning we head east for Elko. Arriving in Winnemucca, we know the Winnemucca Hotel, where we had eaten many times, closed its doors a few years ago upon Mike Olano Jr.'s passing. However, we visit for old time's sake to try and confirm or deny rumors that it had been demolished. Mike and his father owned the hotel for decades. It was built in 1866 and had been home to hundreds of miners and Basque sheepherders. We find the basic structure still standing but it is vacant and forlorn.
Just around the corner from the hotel is the Ormachea Dinner House, but it's closed for lunch so we head to The Martin Hotel. We've eaten at The Martin several times and always enjoy the people, atmosphere, food, and the hotel's history. We order from the extensive lunch menu and have a beef French dip sandwich, a grilled patty melt, and a 1/3 pound Nancy Burger. All come with fries and are delicious. It was just what we need to hold us until dinner.
After lunch we continue east. We consider Elko a gem in the Silver State and its people and Basque Festival were, and still are, the major lure for the trip. Our usual first stop for picons and dinner is the Star Hotel. The Star is famous for its picons and huge steaks. Built-in 1910 by Pete Jauregui, it has been owned exclusively by Basques throughout its years. Scott Ygoa and his wife, Tricia, purchased it in 2004 and the tradition continues. Basque is certainly still spoken here. The family-friendly bar is small and can be a busy, noisy place. No problem. We are seated alongside a mother and her three young sons. One of us orders a T-bone that is at least an inch thick and takes up the entire plate, while two of us have the rib eye, one with an added lobster tail. Each ribeye takes up the whole plate and the large lobster tail comes on its own platter. These main courses come after bread and butter, a delicious soup, one of the best salads we've had, plus green beans, pinto beans with a small portion of garbanzos, spaghetti, and French fries. Whoa! We are able to finish the soup and salad and all the protein but leave a lot of the sides barely touched. The lady next to us has to have her boys help her out with all their leftovers. There aren't too many places like this still around.
Two of our other favorite restaurants, the Nevada Dinner House and Biltoki (Gathering place), were located nearby. The buildings are still restaurants but, as with numerous other Basque restaurants in the West, the Basque owners have retired. Toki Ona (Good Place) has been in business for years, and we had excellent lamb chops there last year. Its original Basque owner has retired but the new proprietors are working to keep the Basque spirit alive. The weekend's main event is the National Basque Festival and Saturday is when most activities take place. First, at 7 a.m., is a 5K run. We passed. Next, a parade winds through downtown and ends at the Basque Clubhouse. Later, traditional Basque sports are featured at the clubhouse.
These include weight lifting, wood chopping, weight carrying, and more. We passed. Saturday night the wait for a table at The Star was lengthy so we decided to walk a few blocks to try a newly opened Basque place called Ogi Basque Deli. Owned by Anamarie Lopategui, Ogi (bread) was serving an assortment of pintxos (Basque tapas) as well as picons. It was tasty, light eating and nice to see younger Basques attempting such a venture. Spending time with local acquaintances made for enjoyable conversation, and a pleasant, leisurely evening.
BACK ON THE ROAD
On Sunday morning we head to the activities at the Basque Clubhouse. A Basque priest holds mass in Basque and English, which is followed by a sheepherders' bread auction. Headed by Jess Lopategui and Bob Etcheverria, loaves of bread baked in Dutch ovens by local Basques are auctioned off to raise money for the club's dance group. Some years the loaves might fetch as much as $600 for the top loaf. The bread contest is an extension of a tradition of bread making by the Basque herders while they were on the high-desert range. We always purchase a loaf and this year is no exception. Unfortunately, we have to return to Reno before the barbecue and other events begin.
Traveling Interstate 80 is not necessarily a monotonous drive. Just west of Elko is the California Trail Interpretive Center and it's well worth a visit. The freeway follows the old emigrant trail across Nevada. It's difficult to imagine walking this route 150 years ago. Battle Mountain, Winnemucca, and Lovelock are also excellent places to take a break.
Arriving in Reno, we check in to the Eldorado, clean up, and walk to the Santa Fe for picons. We then take the short stroll to Louis' Basque Corner for dinner. Louis and Lorraine Erreguible started the restaurant in 1967 and built it into one of the best- known Basque eating establishments in Nevada. Now owned by Chris Shanks and Basque Brian Elcano, the place hasn't missed a beat. The new owners have done some tasteful remodeling and when there's a baseball game at nearby Aces' Park, the bar is packed. The menu remains much the same and family-style seating is still observed. On this night, we settle in with some of our favorites entrées. We order rabbit, a special that night, oxtails, and the lamb roast. The rabbit is just like Amatxi (grandma) used to make and the oxtails are brazed and then baked and come with a delicious, thick brown sauce. The sauce was so tasty that none of it was left as we used our bread to gather each savory drop— outstanding. The portion of roast lamb is huge and its taste exceptional. Other favorites such as sweetbreads, steaks, and lamb chops are also available, and included in dinner is a very tasty vegetable-style soup, salad, pinto beans, fries, a glass of wine, and dessert. After dinner we head back to the hotel so we can get an early start home the next morning.
The trip leaves us satiated and a bit tired but pleased in the fact that we'd made another outstanding journey through Basque Neva- da. Basque immigration to the U.S. has all but ceased and changes, such as the loss of the language, are inevitable. However, it is our hope that the American-born Basques will continue to maintain their social clubs, festivals, and restaurants so that their culture and cuisine will not disappear. Oh, and yes, if all goes as planned we'll be repeating the trip again next year. Unlike our group, the Nevada trek never grows old.
MEET THE  BASQUE ROADTRIPPERS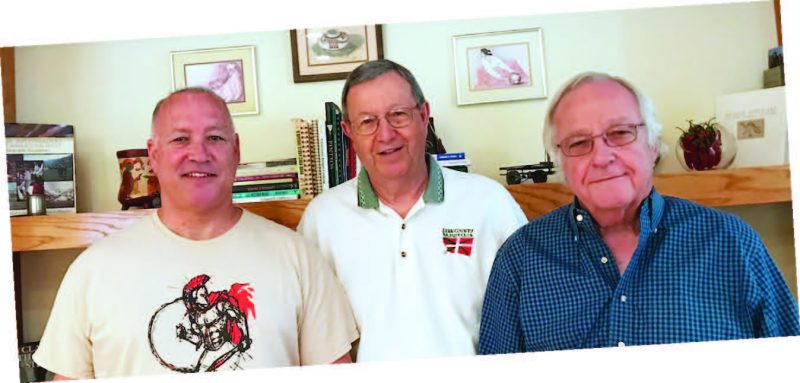 Mark Meske
I am Basque on my mother 's side of the family. My Mom is 100 percent Basque but did not teach me the unique language. I am a U.S. Army veteran and was a police officer. I also worked in agriculture and retired from the gaming industry as a regulatory compliance and surveillance director. I now spend most of my time with family and friends.
Steve Bass
Fortunately for me, I married into a Basque family. My wife is a first cousin to Mark and Larry. I retired after teaching science for 39 years. I've always been interested in history and among other projects, I now research, write, and lecture about Basques in the Americas. I co-authored, with George Ansolabehere, "The Basques of Kern County," which looks at the history of Basques in the
California county.
Larry Errea
My grandfather and grandmother came to America from the Basque Country in 1910 and 1917, respectfully. I am a Vietnam veteran having served in the U.S. Navy. In 2015, I retired as a Superior Court Judge. I am a past president of the Kern County Basque Club and enjoy preparing Basque cuisine, at home and at our Basque club. I visit relatives in the Basque Country as often as I can.
BRING YOUR APPETITE
Santa Fe Hotel
235 Lake St.
Reno, NV 89501
775-323-1891
Louis' Basque Corner
301 E 4th St.
Reno, NV 89512
775-323-7203
The Martin Hotel
94 Railroad St.
Winnemucca, NV 89445
themartinhotel.com, 775-623-3197
Ormachea Dinner House
180 Melarkey St.
Winnemucca, NV 89445
775-623-3455
The Star Hotel
246 Silver St.
Elko, NV 89801
775-753-8696
J.T. Basque Bar and Restaurant
1426 US-395
Gardnerville, NV 89410
jtbasquenv.com, 775-782-2074
Villa Basque Deli and Café
730 Basque Way
Carson City, NV 89706
775-884-4451
Toki Ona
1550 Idaho St.
Elko, NV 89801
eattokiona.com, 775-778-3606
Ogi Basque Deli
460 Commercial St.
Elko, NV 89801
ogideli.com, 775-753-9290
National Basque Festival
elkobasqueclub.com