Ten great places to wet your whistle off the beaten path.
BY ERIC CACHINERO
Nevada has no shortage of backcountry saloons that will make you feel like you're in the old West. Some are simple, some are quirky, but all of them have one thing in common: they're a great place to wet your whistle off the beaten path. Check out this list of 10 must-visit backcountry saloons and let us know if your favorite did or didn't make the cut.
SANTA FE SALOON, GOLDFIELD

A plaque in front of the Santa Fe Saloon claims that the joint is the oldest continuously operating business in Goldfield; quite a feat considering it was constructed in 1905. The building has survived a flood, fire, and the rough-and-tough life of the early boomtown. The bar features the basics: beer, liquor, video-poker machines, etc., and even serves pizza. But what makes it special—besides its history—is the fact that you can also stay the night in the Santa Fe Motel next door, which offers clean, comfortable rooms.
ZACH'S LUCKY SPUR SALOON, KINGSTON
Located some 36 minutes south of Austin, Kingston is a great location if you want to get off the beaten path. A large windmill marks the location of Zach's Lucky Spur Saloon—a rustic and inviting stop for travelers. A selection of liquors, bottled beer, and soft drinks line the bar, which is decorated in clever and colorful knickknacks of all shapes and sizes.
DIRTY DICK'S BELMONT SALOON, BELMONT
Dirty Dick's Belmont Saloon serves a famous Bloody Mary using a recipe that was handed down from the bar's original owner. Located in the historic ghost town of Belmont, Dirty Dick's carries many different types of whiskey, tequila, bourbon, and vodka, wine, and beer brewed in Nevada. Another saloon favorite is Picon Punch—a cocktail that is very popular within the Basque community in Nevada. When you visit Dirty Dick's, be sure to check out the Belmont Courthouse—a majestic and historic structure that graces the town to this day.
TAYLOR CANYON RESORT, TUSCARORA
Located in the heart of pristine hunting, fishing, hiking, and winter-sports area, Taylor Canyon Resort offers amenities beyond what you'd typically expect to find in such a remote location. A devastating flood did severe damage to the resort in 2014, but thanks to the help of the community and other volunteers, the resort has reopened and is better than ever. A bar, restaurant, R.V. park, shower facility, gas pump, Laundromat, and more make this a welcomed stop for travelers and hunters.
PARADISE VALLEY BAR & GRILL, PARADISE VALLEY
Paradise Valley Bar & Grill is a great place to grab a bite to eat and a cold one. They serve hot dogs, cheeseburgers, and even a chorizo sandwich. Saturday night is rib-eye steak night—a local favorite. The saloon is also known for its special events, including professional football and Halloween parties.
DENIO JUNCTION MOTEL, RESTAURANT, BAR, DENIO
Denio Junction is renowned for their Denio Burger, and for good reason. If you want to get away from it all and take in the sights, smells, and tastes of rural Nevada, this is a good place to start. With a friendly staff, clean rooms, cold beer, and delicious food, Denio Junction makes a great overnight stay while exploring the surrounding areas. Nearby hot springs, opal mines, and miles of OHV trails makes this little corner of Nevada very special, and very worth a weekend trip.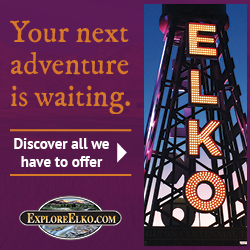 MIDAS SALOON & DINNER HOUSE, MIDAS
Midas Saloon and Dinner House's Facebook page describes itself as a "small, country saloon located in the heart of cowboy country in Nevada," and they couldn't have been more accurate. The saloon serves a selection of American, barbecue, burgers, Mexican, pizza, sandwiches, seafood, steaks, and vegetarian options. Be sure to call 775-529-0203 well before your arrival to ensure the saloon is open and that there is enough room to seat you.
Known as the friendly ghost town, Gold Point caters to both rugged explorers and those wanting a bit of pampering. The town offers up several cabins that guests can stay in, after they've had their dinner and visited the saloon. The saloon is as quirky and colorful as it gets, and even has pool tables and loads of old Nevada memorabilia. Guests can tour the ghost town, which includes extensive mining and postal history.GOLD POINT SALOON, GOLD POINT
PIONEER SALOON, GOODSPRINGS
Constructed in 1913, Pioneer Saloon is enveloped in history, complete with authentic bullet holes from its rowdier days. Celebrities have frequented the joint through the years, including actor Clark Gable, who waited at the bar for three days before learning that his wife, Carole Lombard, had been killed in a plane crash. Swing by for a taste of Wild West barbecue, including breakfast, burgers, and even steak and lobster. Enjoy a cold brew and the history that literally covers the walls of this Nevada treasure.
BRUNO'S COUNTRY CLUB, GERLACH
There's one week out of the year that you might not be able to get a table: Burning Man. Otherwise, Bruno's Casino is a great home-base while traveling through the vastness of the Back Rock Wilderness. Don't let yourself be thrown off by the words 'motel, café, casino, and saloon' that greet Bruno's visitors; Bruno's is real Nevada. City folk beware, though. Like many others on this list, don't expect to belly up and order a cosmopolitan in a martini glass with a lime slice; you might get some strange looks.