Discover art across Nevada's rural communities.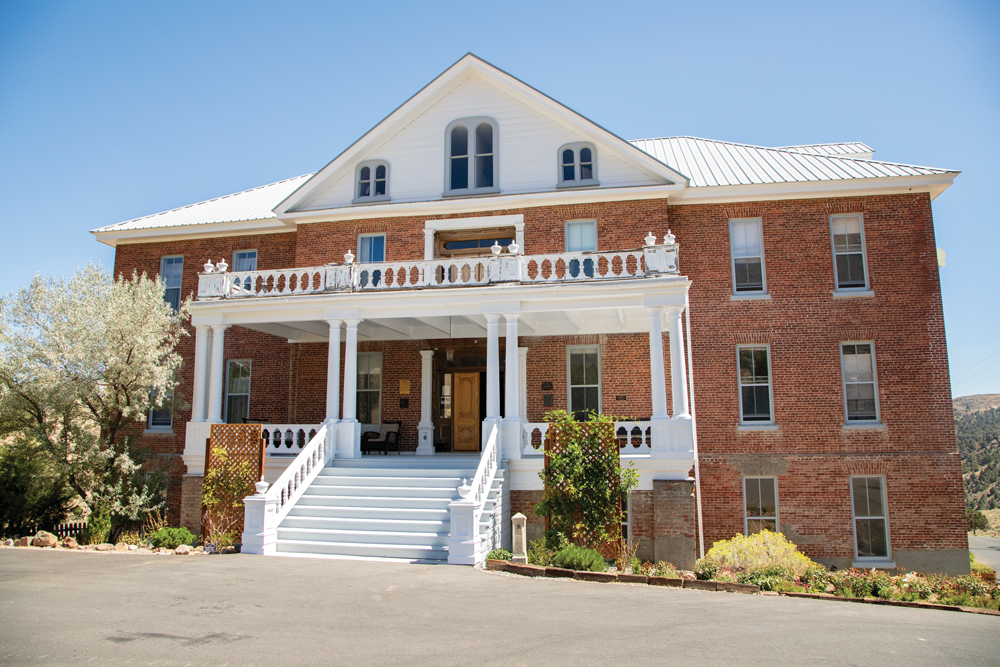 ST. MARY'S ART CENTER
Virginia City
Perched above a backdrop of rolling foothills, St. Mary's Art Center looks like it was once some Comstock silver baron's mansion. But this stately structure has much humbler roots: It was Virginia City's first hospital. Built in 1875, the facility operated for more than 65 years before finally shuttering in the 1940s.
In the 1960s, the city announced plans to demolish the building. Thankfully, two Virginia City residents—an artist and a Catholic priest—saw its potential and teamed up to convert it into an art center. Half a century later, St. Mary's Art Center is a proud part of Virginia City's cultural scene and home to both a permanent art collection and rotating pieces featuring local artists.
If you'd like to check out this historic structure, head online to book a guided tour. Consider signing up for their workshops, canvas and cocktail classes, and favorite annual events like the Paranormal Sleepover Party on Halloween and Holiday Faire in December.

St. Mary's Art Center is also available year-round as a gathering and lodging space. More than a dozen hospital rooms have been converted into charming
guest bedrooms, and the center is ready to host anything from weeklong artist workshops and yoga retreats to weddings and church groups.
BIZARRE 101
Walker Lake
Walker Lake is known for its serene landscape and bighorn sheep, but drivers speeding past might not know that it is also home to an exciting art scene.
When artists David and Maryknoll Bowen left California in search of a place to retire, they had never heard of Walker Lake. The couple were on their way to the Southwest when they first laid eyes on its quiet waters. The moment they saw the disused garage on the shores of the ancient lake, they knew exactly how they wanted to spend their retirement.
Neither had operated a gallery or a retail space, but everything just seemed to work out.
Residents came out of the woodwork to help refurbish the garage, converting it into both a home and a gallery, and a diverse group of local artists contributed to the exhibition space. When Bizarre 101 opened in February 2022, the space was stocked with works by woodcarvers, jewelers, painters, potters, and metalworkers.
Next time you're passing through Walker Lake, be sure to stop in and say hello to the Bowens. The gallery is located on the west side of Highway 95, between the Baptist Church and Big Horn Crossing (look for the colorful mural of local legend Cecil the Sea Serpent).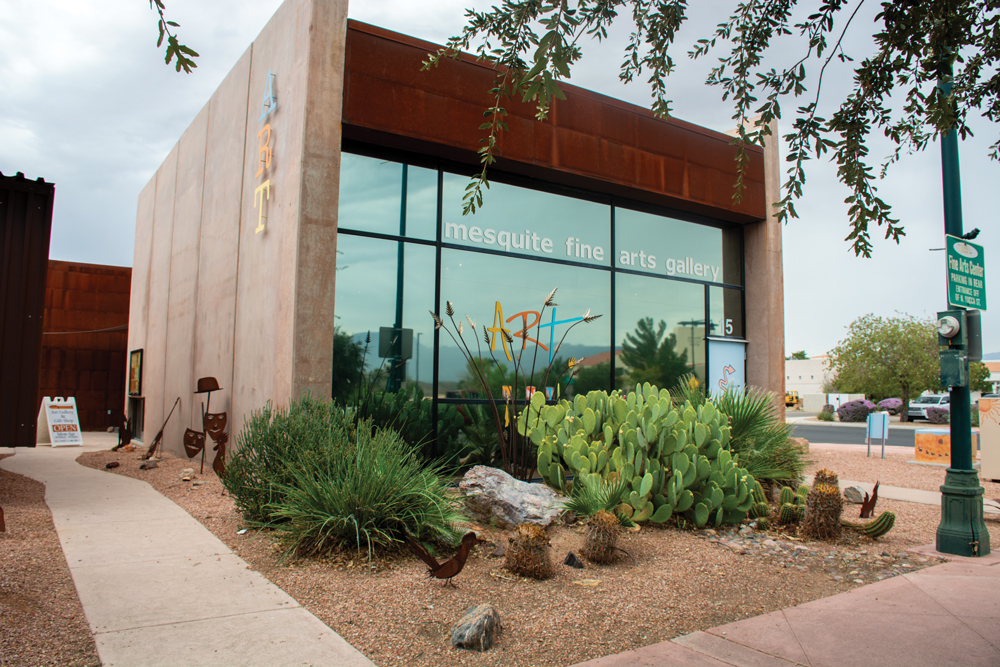 MESQUITE FINE ARTS
Mesquite
Mesquite is mostly known as a golf-lover's paradise, but if you're more into arts than sports, swing into the Mesquite Fine Arts Center & Gallery. This cultural hub represents a whopping 180+ active member artists, allowing visitors to easily discover new artists and affordable pieces of all mediums.
In addition to its gallery space, this art-lover's oasis also hosts cultural events and classes. So, if you're staying in town for a few days, be sure to head here to brush up on your drawing, painting, and pottery skills.
ELY ART BANK
Ely
Converted from a working bank into an art gallery and cultural center in 2013, the Ely Art Bank features a permanent collection of paintings and sculptures. Whether it's indigenous art, folk art, or modern art, you'll find plenty to peruse—and purchase—in this rich collection of handcrafted jewelry, photography, paintings, and furniture.