Discover Nevada's wild north from this Western heritage capital.
Founded in 1868, Elko began life as a station on the Union Pacific line. Thanks to its prime location near the railroad and the Humboldt River, the northeastern Nevada town became a busy community surrounded by a sprawl of farms and ranches.
Buckaroos and sheepherders had no difficulty finding work in Elko, and folks soon arrived from around the globe. Some of the town's earliest settlers were from the Northern Paiute tribes, Basque Country, and Latin America. Today, their cultural influence is seen in Elko's restaurants, museums, and festivities.
For more than a century, Elko has enjoyed steady growth and is now one of Nevada's largest towns. While there is still plenty of cowboy pride, gold mining has become the region's dominant industry. In the 1960s, a 50-mile-long belt of gold ore was discovered just west of town. The massive strike—known as the Carlin Trend—continues producing to this day and is home to the world's second largest gold mine.
Indeed, there seems to be no shortage of natural resources in the Elko area. South of town, the commanding, white-capped Ruby Mountains strike a magnificent silhouette. To the north, rolling hills of grass and sage lead into some of the West's most rugged country.

Elko is an excellent launch point for discovering Nevada, but don't forget the city proper. Its charming, well-developed downtown brims with historic buildings, shopping, and sightseeing destinations. There's also a wide selection of lodging and dining experiences. From retro motels to casino-resorts and Basque restaurants to all-you-can-eat sushi, Elko has something to offer travelers of
all backgrounds.
DOWNTOWN
Elko's commercial core is well-preserved, delightfully colorful, and bursting with unique buildings. This pedestrian-friendly district is also packed with dining and shopping experiences. As you tour your way through Elko's historic center, don't miss these beloved stops.
Mural Tour
Downtown is illuminated with more than 60 brilliantly colored scenes capturing northwestern Nevada's cultural ties to Basque, American Indian, and cowboy cultures. The 4-block-long alley between Idaho Street and Railroad Street is worth a venture, and don't miss the dozen mural panels embellishing Roy's Market.
Cowboy Arts & Gear Museum
This museum is filled with artifacts representing the cowboys of the American West. It also pays tribute to the continuing traditions practiced in Elko and fellow western communities. Admission is free, and even if time is short, stop in to check out their hat collection.
J.M. Capriola's
Grab your own piece of the American West at this famous saddle and leatherwork shop. The nearly-century-old business crafts some of the finest bits, spurs, and leather goods, catering to clients around the globe.
Western Folklife Center
Best known as the headquarters for the annual National Cowboy Poetry Gathering, this Elko staple is open all year and features a permanent art gallery, historic saloon, and gift shop. City slickers looking to slip into the country lifestyle are invited to attend the center's bimonthly folk song and dance concerts.
MUSEUMS
Looking for something on the quieter side? Maybe you just need somewhere that's climate controlled to recover from a strenuous hike. Regardless, Elko has not one but two excellent museums guaranteed to fill your afternoon with contemplation and plenty of local color.
Northeastern Nevada Museum
With its art gallery, taxidermy wildlife installation, and dozens of eye-catching exhibits, Elko's museum rivals those found in some large cities. Don't miss the life-size dioramas, mastodon fossil, Shoshone and Paiute art pieces, and the full-sized Pony Express cabin.
California Trail Interpretive Center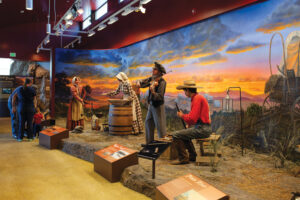 Located 10 miles west of town, many people may have not heard of this museum, but you should absolutely make a point to visit. Located right on the historic emigrant trail, this BLM-run facility offers creative exhibits that painstakingly detail the hard realities of settlement in the American West.
DAY TRIPS
Some of the area's most popular destinations are just a short drive from downtown. You'll have plenty of time to adventure and explore before returning to Elko for evening entertainment.
Angel Lake
The 12-mile highway to Angel Lake begins in Wells­­—30 minutes east of Elko—and quickly ascends 3,000 feet before ending at this picture-perfect alpine cirque. You might want to pick the least distractable driver for this breathtaking drive: On some segments, the cliffside begins a few short feet from the road. Expect expansive views of the valley, brilliant fall colors, and—if you're lucky—a family of bighorn sheep or pronghorn antelope. At the lake, you'll find plenty to fill the day or even an overnighter. The well-kept grounds include 26 camping spots, public bathrooms, picnic areas, and plenty of trails. Sites are reservable online.
Metropolis Ghost Town
At just one hour from Elko, this ghost town is an easily accessible destination for families. Upon arriving, visitors will spot the ruins of the Metropolis Hotel and the schoolhouse's conspicuous archway. Further west are the scattered remains of homesteads and a still-maintained town cemetery. Watch your step for sudden drop offs.
Lamoille Canyon
The short journey to the top of Lamoille Canyon is one of Nevada's most awesome scenic drives. There is no shortage of waterfalls and gorgeous picnic spots to enjoy as the road winds up this glacier-carved gorge. At the top of the canyon, visitors will find themselves at the trailhead for the 40-mile Ruby Crest Trail. Daytrippers can reach plenty of alpine lakes and mountain vistas.
Ruby Lake National Wildlife Refuge
Situated on the eastern edge of the Ruby Mountains, this sprawling, 17,000-acre oasis of meadows and spring-fed marshes is an attractive recreation area for fishermen, birdwatchers, and photographers. First-come, first-served campsites are available at the South Ruby Campground, near the Ruby Marsh Visitor Center and Gallagher Fish Hatchery. Each site is equipped with a picnic table, fire ring, and access to a fish cleaning station and pit toilets.
---
DINING GUIDE
Elko has a full restaurant scene, and for newcomers it might be difficult to decide on that next meal. Need some help? Here are some suggestions to get you started.
PIZZA
SUSHI
Blue Moon Asian Cuisine & Sushi Bar
COFFEE & DESSERT
Cool Beans Coffee and Ice Cream
Cowboy Joe Downtown
Spoon Me
BREAKFAST, BRUNCH, AND LUNCH
Dreez
McAdoo's
Coffee Mug
MEXICAN
Dos Amigos Mexican Restaurant
Garibaldi's Restaurant Elko
La Fiesta
Rigoberto's
FINE DINING
The Star Hotel Basque Dining
Odeh's Mediterranean Kitchen
Machi's Saloon & Grill
Luciano's
FAST FOOD
Arctic Circle
Taco Time
Dairy Queen
---
ANNUAL EVENTS
DECEMBER
JANUARY
National Cowboy Poetry Festival
JUNE
Ruby Roubaix: Gravel Fondo
California Trail Days
Lamoille Country Fair
JULY
National Basque Festival
Silver State Stampede
SEPTEMBER
Ruby Mountain Balloon Festival
Rides & Rods Elko Classic Car Show
---
INTO THE WILD NORTH
If you're willing to put in some mileage, the country north of Elko to the Idaho border is true Great Basin wilderness. Looping along Nevada State Routes 225 and 226 takes motorists through Wild Horse State Recreation Area, along the creek-laden Independence Mountains, and to the living ghost town of Tuscarora.
During the peak of summer, the dirt road from Elko to Jarbidge is open. This tiny community—which ranks among one of the most remote in the Lower 48—might be difficult to reach, but those who make the trek are rewarded with comfortable food and board in Nevada's stunning backcountry.