View PDF
Here's our conversation with John Wright, western heritage artisan and the owner of J.M. Capriola Co. in Elko.
View PDF
Welcome to the fourth-largest county in the entire nation. Elko County is home to the Ruby Mountains—one of Nevada's most prized ranges—and some of the largest gold mines in the world. Many flock to this corner of the state for verdant alpine vistas, hearty Basque cuisine, top-notch gaming, and a dose of cowboy culture. 
View PDF
Very little is a given in this world; in fact, we're often told the only thing you can count on is death and taxes however there is another incontrovertible fact about humans. We need food. But beyond basic sustenance, food plays an indelible part in our lives and it touches not only our biological needs but also our social and emotional needs as well. 
View PDF
Looking from the outside in, sheepherding and Basques in Nevada go hand-in-hand. But for the Basque immigrant life wasn't that simple. First, he had to overcome a language barrier, as well as homesickness. He then had to learn a completely foreign skill—herding sheep—under strenuous circumstances.
View PDF
BY MEGG MUELLER Nevada Magazine has run stories about Lamoille Canyon for more than 70 years. We've written about Lamoille Canyon in the winter, summer, spring, and fall. We've covered the hikes, the skiing, the camping, and the wildflowers. We've written about the Ruby Mountains where the 12-mile canyon was formed, dug many ice […]
View PDF
In September, Editor Megg Mueller and I, after wrapping up day two of ghost town adventures (see page 62), treated ourselves to one of the most consistently delicious meals in Elko—The Star Hotel.
View PDF
One more day. It's something many vacationers and travelers wish they had, but seldom take even when they do. It's no secret that we're all busy, and getting back home a day early can make getting ready for the week that much easier. But staying just one more day can mean the di.fference between a […]
View PDF
Nevada State Parks – Something For Everyone PART 4: THE COUNTIES OF WHITE PINE AND ELKO COOK UP A FEW WELL-HYDRATED SECRETS. BY MEGG MUELLER The neighboring counties of White Pine and Elko each have spectacular scenery, extraordinary vacation spots, and a whole lot of space. They both have two state parks, also, and while […]
View PDF
Expectedly, this northeastern town is home to everything unexpected. BY MEGG MUELLER Great expectations can sometimes lead to disappointment; no expectations can create a sense of boredom. Go ahead and toss both those notions out the window, if you please. This is Elko we're talking about. "We were a cow town, a railroad town, and […]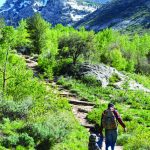 View PDF
There is a Cure for the Summertime Blues EDDIE COCHRAN FORGOT ABOUT THE SILVER STATE WHEN HE SANG HIS CLASSIC HIT. Summer vacation. Are there two words that bring more joy to a child, or more fear to a parent? Planning a trip to satisfy your brood can be downright daunting, but we're here to help. […]