View PDF
Jokes aside, northern Nevada town is a little slice of heaven. BY MEGG MUELLER Sparks Councilwoman Julia Ratti had a big birthday wish. "I was traveling to New York City and I grabbed Nevada Magazine at the airport and saw the Tour Around Nevada story," she recalls. "I posted on Facebook my birthday wish […]
View PDF
Through The Lens: Midtown Mural Tour RENO ART MURALS INSPIRE AND INVIGORATE AREA AND ARTISTS BY MEGG MUELLER When we're young, many of us play with a jack-in-the-box; with just a little persistence, we are continually delighted by the surprise that pops up. Reno's Midtown Mural Tour is a bit like that; the payoff […]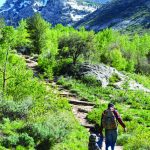 View PDF
There is a Cure for the Summertime Blues EDDIE COCHRAN FORGOT ABOUT THE SILVER STATE WHEN HE SANG HIS CLASSIC HIT. Summer vacation. Are there two words that bring more joy to a child, or more fear to a parent? Planning a trip to satisfy your brood can be downright daunting, but we're here to help. […]
View PDF
The Depot Craft Brewery & Distillery Historic backdrop provides the perfect setting for elegantly innovative, yet classic eatery. BY MEGG MUELLER Reno's burgeoning craft-food scene gave birth to a new entry, appropriately, on New Year's Eve. As any parent knows, infancy is not without its trials and tribulations, but The Depot Craft Brewery & Distillery […]
View PDF
Pottery makers draw inspiration from Nevada's environment, culture. BY JOHN SEELMEYER When she was a schoolgirl, Las Vegas pottery maker Donna Potter persisted in choosing a purple crayon to color mountains despite the urging of adults who tried to convince her that mountains are brown. A native Nevadan, Donna knew better. The ever-changing purple of […]
View PDF
Whitney Peak Hotel Reno's latest property scales new heights in lodging, dining, and adventure. BY ERIC CACHINERO Smoke-filled casino floors; been there. The familiar chiming of slot machines; done that. Downtown Reno is ready for new life. The Biggest Little City needs a breath of fresh air, and Whitney Peak Hotel is answering that call. […]
View PDF
New chef surprises and delights, all thanks to the family. STORY & PHOTOS BY MEGG MUELLER Nevada is a land of contrasts, and nowhere is that more evident than the Cactus Creek Prime Steakhouse at the Bonanza Casino. One of Reno's smaller local casinos, the Bonanza offers the charm of the city's rustic edge; no […]
View PDF
Established as a railroad town on the swamps east of Reno, this Nevada community has shimmered for more than a century. BY ERIC CACHINERO | May/June 2014 Although Sparks is often overlooked in the annals of Nevada history, the story of the development of this railroad town is as strong as the steel from which its tracks […]
View PDF
ICONS OF NEVADA BIGHORN SHEEP Nevada Relevance: State Animal The desert (Nelson) bighorn sheep canadensis nelsoni) is found throughout the southern, central, and western part of the state and in mountain ranges as far north as Interstate 80. Tourist Tidbit: Boulder City's Hemenway Valley Park is popular for its herds of bighorn sheep, which routinely […]
View PDF
Sinatra Jr. Kidnapped, December 8, 1963. Looking back at the botched abduction of a Las Vegas crooner 50 years later. BY JONATHAN SHIPLEY While lounging around in a T-shirt and a pair of underwear, Frank Sinatra Jr. enjoyed a chicken dinner seemingly without a care in the world. Joined by John Foss, trumpet player for the […]
View PDF
1864 Tavern The Nevada pride flows—literally and figuratively—inside new California Avenue saloon in Reno. BY MATTHEW B. BROWN As Nevada preps for its sesquicentennial celebration of 2014, 1864 Tavern in Reno couldn't have come at a more appropriate time. "We just really take pride in our state," says co-owner Shawn Plunket, "and we wanted to […]
View PDF
University archeologist leads excavation at historic landmark in Carson City Archaeology team collaborates with local Native Americans on excavation and preservation of Stewart Indian School listed on the National Register of Historic Places University of Nevada, Reno In August, the University of Nevada, Reno's Department of Anthropology, in partnership with the Nevada Indian Commission and […]
View PDF
Nevada's wildlife sanctuaries rescue animals while educating and entertaining visitors.
View PDF
"This is the best part of the whole meal," swoons Julie Mottes between spoonfuls of honey and brittle semifreddo atop Guanaia chocolate fondue. "You should write your story starting with dessert and work backwards." Considering the out-of-this-world-delicious meal we've been enjoying this particular February evening, Mottes' assertion is a bold one, but our dinner companions—Mottes' friend Shari Weinberger and Editor Matthew B. Brown—and I agree: This ranks among the best desserts we've ever tasted.
View PDF
The Biggest Little City in the World, America's Adventure Place, A Little West of Center, Far From Expected…Reno has seen its fair share of nicknames and slogans—especially so in the last decade—and few of them have stuck.
View PDF
Train stations are buildings to revere and remark upon. An exceptional station reminds passengers that sometimes the destination can be as important as the journey. Unlike airports, the great railroad stations embody grandeur, not grandiosity. Their names alone can evoke memories—Grand Central, Waterloo, Gare du Nord. And in Nevada, Reno.