View PDF
In the mid-1860s, stories spread of a rich silver lode in Nevada. Thousands of treasure seekers arrived from all points of the compass, and by 1870, the mining camp became one of the largest cities in the West outside of San Francisco. For years, wealth poured from its surrounding hills as if from a broken tap. When the bonanza inevitably ended, the town lived on and weathered another century and a half. Today, it is a rare living artifact of the 19th century.
View PDF
Chef, restaurateur, and community leader, Mark Estee has left a tasty mark on northern Nevada's dining experience for more than 20 years. His company Reno Local Food Group has five restaurant brands and multiple locations around the Reno-Carson City area.
View PDF
A bit of a bold statement was made by a "New York Times" architecture and design blogger when she stated "The shipping container could be the 21st century's brick." Bold perhaps, but not without merit. The containers are inexpensive, easy to transport and set up, sustainable, and watertight, to name just a few attributes.  Need further proof? Container parks dot the planet, and in the last decade or so, industrial structures inviting shopping, dining, recreation, and more have sprung up everywhere from California to Dubai. In Nevada, there are three alone, each with its own vibe and intention, but all distinctly engaging. 
View PDF
Finding Bliss at Kerouac's Relish in a delicious path to enlightenment in eastern Nevada. BY ENGRID BARNETT By the time you reach the easternmost edge of U.S. Route 50, affectionately known as The Loneliest Road in America, Kerouac's restaurant in Baker feels more like a mirage than a reality. The brainchild of chef Jake Cerese […]
View PDF
 A VIP SAMPLING OF THE BEST DISHES LAS VEGAS HAS TO OFFER. BY MEGG MUELLER Adventures of every flavor exist in Las Vegas, but when flavor is the adventure, you've got a tasty new ball game. Luckily, Las Vegas has someone who not only knows the game, he's mastered the rules, knows all the players, […]
View PDF
Central Nevada town proves it's more than just a stop along the way. BY MEGG MUELLER The draw of Tonopah has fluctuated over the years. As home to the second largest silver deposit in Nevada history, its importance as a mining town is undeniable. As the almost-exact halfway point between two of Nevada's largest cities […]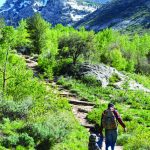 View PDF
There is a Cure for the Summertime Blues EDDIE COCHRAN FORGOT ABOUT THE SILVER STATE WHEN HE SANG HIS CLASSIC HIT. Summer vacation. Are there two words that bring more joy to a child, or more fear to a parent? Planning a trip to satisfy your brood can be downright daunting, but we're here to help. […]