Southeastern community is your gateway to a historic adventure.
While Las Vegas and Reno offer white-glove hospitality and world-class entertainment, it's our rural destinations that give visitors a glimpse into the heart and soul of our state. Each issue, you'll find one of our smaller-but-no-less-incredible towns highlighted.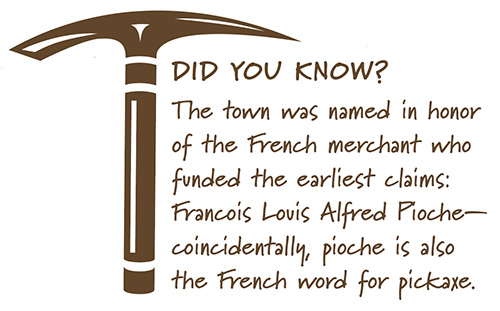 A TALE OF TWO CITIES
In the mid-1860s, stories spread of a rich silver lode in Nevada. Thousands of treasure seekers arrived from all points of the compass, and by 1870, the mining camp became one of the largest cities in the West outside of San Francisco. For years, wealth poured from its surrounding hills as if from a broken tap. When the bonanza inevitably ended, the town lived on and weathered another century and a half. Today, it is a rare living artifact of the 19th century.
That tale certainly describes Virginia City, but it's really about another Nevada boomtown. Pioche and Virginia City were sister cities from the start. Both were founded on chilly, remote mountaintops. Both had mines that produced billions of dollars in silver, and both rose and fell within the same decade. When the wealth disappeared, Virginia City drew tourists as a fanciful recreation of the old days. Pioche preserved its historic charm too, but its remote location made for a quieter community. Today, it is an authentic relic of the region's past and an excellent launch point for all styles of recreation. 
FRONTIER FIGHT CLUB
The first thing most people hear about Pioche usually concerns its rough-and-tumble roots. From the start, this town was one of the wildest settlements on the frontier. It is said that 72 men met a violent death before a single person died of natural causes. In the 1870s, the newspaper even congratulated residents when the town went 60 days without a murder. 
What caused such notable violence in an era known for its lawlessness? Money, of course. During peak years, the mines surrounding Pioche produced a prodigious amount of wealth. Many mines were paying $10 million dollars in dividends each year—and that's not adjusting for inflation. 
Thanks to the weak frontier legal system, when a mine became successful, its ownership was easily disputed. Mine owners hired armed guards to protect their stakes from claim jumpers: better to settle justice locally than take disputes to an easily bribed court. In 1871, more than half of the murders in Nevada took place in Pioche. 

By 1880, most of the mines closed and the town fell into a post-boom slumber. Because Pioche was still the county seat, it was spared the fate of many towns that go bust. Today, visitors can still find much of the town's original structures along with plenty of mining artifacts scattered around town. There's much to do and see in and around Pioche, but here are some of our recommendations to get you started.
OVERNIGHTERS
Overland Hotel & Saloon – This 1945 establishment offers a real-deal saloon bar and imaginatively themed rooms. If you're seeking a haunted overnighter, ask about the Victorian Suite.
Hutchings Motel – These five tidy cabins are available April through November. You have the pick between The Cowboy, The Hunter, The Miner, The Gunfighter, or The Rancher.
Motherlode Motel – This charming location offers eight rooms at a great value. Pets are welcome!
Pioche RV Park and Campground – Enjoy spacious back-in RV sites and a small campground complete with full hookups, laundry facilities, a community bathroom with hot showers, free Wifi, picnic tables, and a dump station.
Tillies Country Cabins – Each of these quiet cabins located just behind Tillies Mini Mart features a queen-sized bed and a kitchenette. 
FOOD AND DRINK
Alamo Club – Originally built in the 1860s as the Wells Fargo Freight Office and Pioche Bank, the building converted to The Alamo Club Bar in 1901. This comfortable establishment offers a great supper, serving everything from burgers and sandwiches to pizza and salad.
Nevada Club of Pioche – This is the best spot to charge up between adventures for libations, billiards, and a friendly chat with locals.
Gunslingers – Stop here for sundaes, milkshakes, candy, souvenirs, and coffee in what was once an 1870s blacksmith shop.
A STONE'S THROW
Come to Pioche for the small-town fun but stay for one of its best attributes: the surrounding countryside. Pioche sits at the center of a network of gorgeous hikes, scenic byways, mining relics, and ghost towns. For those seeking to complete their Nevada State Parks Passport, make Pioche your basecamp: It's within 45 minutes of six parks. Here are a few parks and other adventure spots we like: