Follow a day of winter play with this stomach-warming Swiss comfort food.
BY MELISSA SIIG | JANUARY/FEBRUARY 2009
Whenever the Sierra-at-Tahoe ski team performs well at a competition, its members get a special treat—cheese fondue melted on the spot by Tahoe Swiss Chalet owner Peter Baumann.
Baumann's 16-year old son, Erich, a junior at South Tahoe High School, is a member of the team. The elder Baumann, who is half Swiss, says the hearty, après-ski reward makes other teams jealous. "All the other schools ask, 'How come we don't get fondue?'" Baumann says.
For those without the luxury of such immediate service, fondue restaurants around the state offer winter sports enthusiasts (and others, of course) a warm place to retreat from the cold, refill their hungry bellies, and enjoy a rewarding, social dining experience with family and friends.

Fondue, French for "melted," is a traditional Swiss dish made by melting Gruyere or Emmenthaler cheese and wine in a communal pot. Cubes of bread are dipped into the steaming sauce. Modern twists include dipping chicken, prawns, and lamb in different liquids such as hot oil or broth.
The origins of fondue are found in winter. Peasants in 18th-century Switzerland relied on cheese and bread made during the summer to last them through the cold winter months. However, by the time the snow started to fall, the cheese and bread were so hard they became inedible. The industrious Swiss discovered that by mixing the cheese with wine and heating it over a flame, they could dip the stale bits of bread into the sauce for a soft, delicious meal.
Today, fondue can be found on practically every menu in restaurants in the Swiss, French, and Italian Alps. Mary Hendrix, owner of La Fondue in Incline Village, spent two weeks last March in France and Italy. "I've eaten it all over the world, always in mountain towns," says Hendrix, who got her first fondue pot in 1973.
So it's only natural that fondue restaurants have taken root in Nevada, the most mountainous state in the country. The Reno-Lake Tahoe area, home to a plethora of ski resorts, has six restaurants that serve fondue. Las Vegas, with a ski resort less than an hour away, has two all-fondue establishments in the area.
La Fondue, which opened in 1980, is the only eatery at Lake Tahoe that exclusively serves fondue. Its interior replicates the feel of a cozy Swiss chalet, with European ski posters lining the wood-paneled walls. The connection between fondue and skiing was obvious to Hendrix. "When you come in from skiing you want something hearty," Hendrix says. "It's the warmth of it, the aroma, and the atmosphere, too."
Her customers agree. In the 12 years they've had a ski lease at Tahoe, Lynn Bodfish and her family have made it a tradition to dine at La Fondue at least once a month after hitting the terrain at Heavenly Mountain Resort. "After a cold day on the slopes, it's nice to come into a warm, inviting, and toasty ambience," Bodfish says. "It makes the whole skiing experience."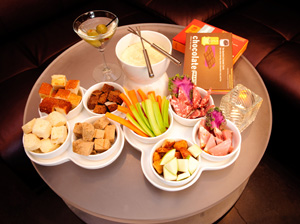 The parallel between skiing and fondue is one reason that Sean Sette, owner of the two Chocolate Bar restaurants in Reno, will open a third location at Northstar-at-Tahoe Resort in February. The Chocolate Bar serves both cheese and chocolate fondue, the latter being its number-one seller. "Chocolate has always been synonymous with cold weather and skiing," Sette says. "Chocolate is a comfort food and has so many benefits—it just makes you feel good."
The Melting Pot of Reno will offer for the second year in a row discounts to area skiers. Owner Eric Ponce de Leon gives 15 percent off any bottle of wine $50 or less and $20 off a Big Night Out for Two (four-course meal in which guests choose their fondue options) to any customer who brings in a ski pass or same-day lift ticket from any of the area resorts. "After a full day of skiing with friends or family, what a better way to end than with a cheese pot and a nice bottle of wine," Ponce de Leon says. "It's a cozy, warm atmosphere, and it's fun."
That communal aspect of fondue dining is another one of its attractions. Depending on the restaurant, the pots of melted cheese or chocolate can serve anywhere from two to eight people. The Tahoe Swiss Chalet, which opened in South Lake Tahoe in 1957, offers fondue bourguignonne (raw cubes of filet mignon) for two, in which customers dip and cook the meat in hot oil.
Kirk Hansen, owner of two Melting Pots in the Las Vegas area, says that sharing fondue, which can last a few hours for larger parties, gives people an opportunity to spend quality time together. "It's an easy way to connect with people," he says. "It's the way Europeans do it—they take their time, talk, and enjoy the food."
Fondue can also help you start a conversation with strangers. "It's an icebreaker," Hendrix says. "People tend to be very interactive because they are all eating from the same pot."
Or, you can always fall back on fondue folklore. One version says that if a man drops his cube of bread into the pot, he has to buy the next round of drinks. If a woman drops her morsel, she has to kiss the man to her left.
Baumann says the custom had to be modernized. "It used to be that a man had to kiss a girl, but the guys kept dropping their fondue bread on purpose," he says. "Now, if you lose your bread, you buy the table a bottle of wine."
Click here to subscribe to Nevada magazine.
CONTACTS
The Chocolate Bar
(three locations)
475 S. Arlington Ave., Reno
775-337-1122
13979 S. Virginia St., Ste. 505, Reno
775-852-9966
thechocbar.com
100 Northstar Dr., Truckee (CA)
northstarattahoe.com
La Fondue
120 Country Club Dr. #66, Incline Village
775-831-6104
lafonduetahoe.com
The Melting Pot
(three locations)
6950 S. McCarran Blvd., Reno
775-827-6500
8955 S. Eastern Ave., Green Valley
702-944-6358
8704 W. Charleston Blvd., Summerlin
702-384-6358
meltingpot.com
Tahoe Swiss Chalet
2544 Lake Tahoe Blvd., South Lake Tahoe
530-544-3304
tahoeswisschalet.com
Peter Baumann's easy fondue recipe
In a large pot, mix:
Pinch of salt, pepper, and nutmeg
Garlic to taste
2/3 cup white wine
2 2/3 cup mixture of grated Gruyere
and Emmenthaler cheese
1 oz. Kirschwasser (a German fruit brandy)
In a separate bowl, make a paste out of a couple tablespoons of cornstarch and a little water. Heat the contents of the pot over medium heat, whipping occasionally. Gradually add cornstarch mixture to desired thickness. Heat fondue for five minutes or until cheese is melted. Break up your favorite loaf of bread, and Bon Appétit!