Antique stores in northern Nevada offer treasures untold.
BY SUSAN NUGENT
In a time when hand-held technology becomes outdated almost before it hits the shelf, it seems nothing is made to last. Wouldn't it be nice to experience something so well made it has lasted for generations? Along with great quality, items such as a hand-crafted oak table or a vintage Lionel train set can stir nostalgic feelings and harken back to an earlier time. If an antique road trip speaks to you, treasures such as these can be found at antique and collectible stores in northern Nevada.
JUST COUNTRY FRIENDS
Fallon
A dollhouse of an antique and collectibles store, this weathered, Craftsman-style house-turned-antique-store offers a combination of farmhouse-style gifts and antique collectibles. Billie Jo Snow—an equal partner in the store—describes a recently sought-after outhouse with a grin adding that there is something for everyone. For shoppers looking for something a little less rustic, they carry new items, vintage kitchenware, linens, and antique furniture. You'll also find a variety of treasures from dressers and iron bed frames to milk cans and farm equipment. 
CHESHIRE ANTIQUES
Gardnerville
Cheshire Antiques is a trove of antiques and collectibles. What began as the Carson Valley Mercantile in 1896, the two-story brick and stone building is formidable in its size and holds countless antiques and collectibles. Owners Richard and Karen Campbell say interests and trends change over time with items such as original vinyl records replacing once sought after "Life" magazines, for example. Quality antiques continue to be the main attraction like a hand-crafted Jacobean chair or a beautifully preserved espresso-stained oak trunk—both more than 400 years old. 
THE ANTIQUE MALL
Mound House
Hidden in plain sight along Highway 50, this inconspicuous antique store is filled with everything from model train sets to antique furniture and collectibles. There's even a yard filled with antique farm and mining equipment. In business for more than 27 years, the 7000-square-foot store is known for its variety of goods and recognized by those in the trades for carrying quality used hand tools. Co-owner and manager Jannette Hoffert notes mid-century modern items fly off the shelves and is excited to see customers of every generation visit the shop. A room in the back of the store holds bigger pieces of furniture purchased through estate sales or brought in directly by sellers.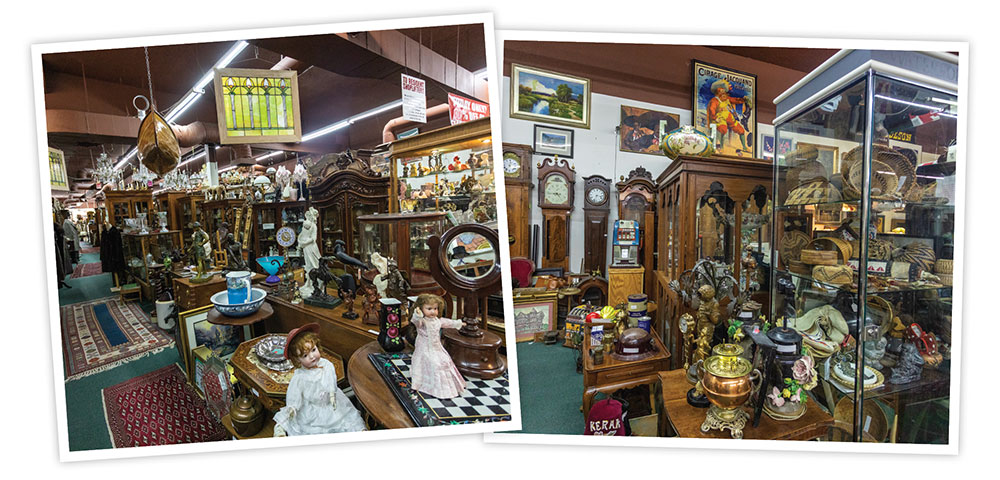 HANIFIN'S ARTS & ANTIQUES
Carson City
For finds such as an 18th century carving by artist Grinling Gibbons—whose work adorned the walls of Windsor Castle—to rare European furniture and art, Hanifin's is not to be missed. Built more than 150 years ago, the building itself is a history lesson with owner Michael Robbins acting as historian. From 1870 to 1930, it operated as a dry goods store and was the primary seller of Dat So La Lee's baskets. Robbins imports high quality antiques from as far away as Europe, Asia, and North Africa and buys every piece himself. He says he looks for pieces made from walnut, cherry, or mahogany because, under natural light, these types of woods "just glow with a patina all their own."  (Ed. Note: After publication we learned that Hanifin's will be closing by the end of 2023.)