A Capital place to live, according to all.
BY MEGG MUELLER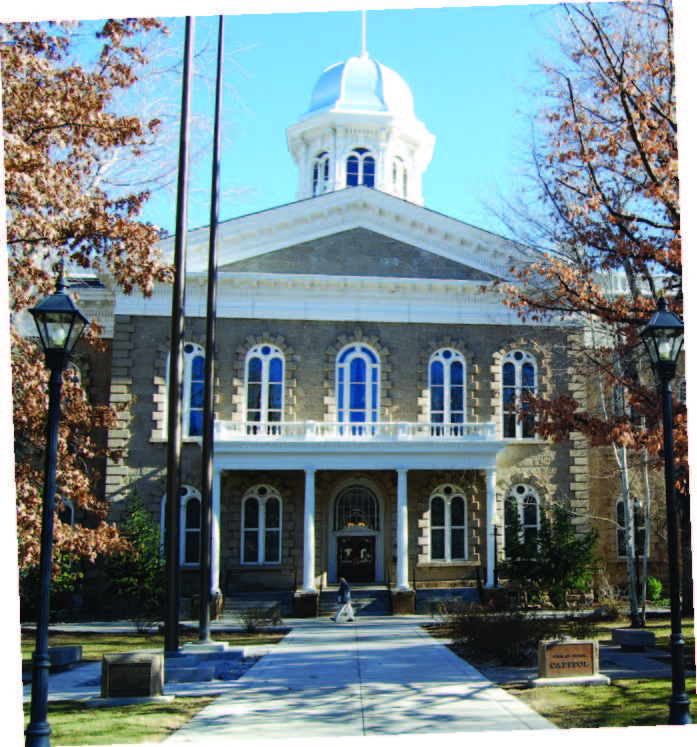 When I was a youngster living in Reno, I used to think of Carson City as that town in between me and my sister in Los Angeles; the pedestrian-friendly 25-mph speed limit through the heart of Carson's downtown drove me crazy, as I was eager to keep moving. Today, I proudly work in the Silver State capital city, and have first-hand knowledge why slowing down for this delightful town is a good idea. And while I'm late to the party, Carson's appeal is nothing new to those who live here.
"People may think it's a sleepy historic capital, but I like to think of us as a classic, contemporary capital with a rich history," Kyle Horvath, social media/communications manager at the Carson City Visitors Bureau, says. "Come on Halloween and Ne- vada Day weekend…there is nothing sleepy about this town."
BREAKING GROUND
In 1844, famed explorer John C. Frémont and his guide, Kit Car- son, set out on their second expedition to map and describe the Oregon Trail, but a fateful detour south led them to Lake Tahoe and the surrounding valley. Frémont named the route Carson chose through the Sierra Nevada mountains—as well as the river flowing through the resplendent valley below—after his intrepid guide.

As the California Gold Rush was exploding, travelers passing through the then-named Eagle Valley discovered a different kind of riches in the verdant farmland, and soaring mountains. Abra-ham Curry arrived in 1858, and along with John J. Musser, Franklin Proctor, and Benjamin F. Green, began building the town and even earmarked 10 acres of land for the capitol building he envisioned. His foresight and fortitude came to fruition when Carson City was named territorial capital in 1861, then state capital in 1864.
The wealth of the Comstock Lode ran through Carson City as its strategic location between Lake Tahoe's lumber and the mining needs of Virginia City ignited the Virginia and Truckee Railroad. A branch of the United States Mint was built by 1870, and the capitol building shortly thereafter. While the population hit more than 4,200 in 1880, developments elsewhere in the northern part of the state and the decline of the mining boom saw the city's population dwindle. It didn't reach its boom year level until about 1960. But being a small town—at one time the nation's smallest capital—has never proved a problem for the people of Carson City.
SIZE ISN'T EVERYTHING
Joel Dunn is the Executive Director of the Carson City Visitors Bureau, and he's also a third-generation Carson City native. The small population was, to him, the perfect way to grow up.
"You were hard-pressed to meet a stranger while growing up in Carson City during the 1970s. With weekend gatherings of neighborhood friends for a game of kick-the-can and ending the day with a session of doorbell ditch, we had our own taste of Mayberry," Joel says. "By the time I was entering my teens, the population had doubled and the offerings of living in the Carson region became my playground."
That playground includes everything from outdoor recreation to the living history the city embodies. Visitors often come with the notion of one or the other; a ski trip or mountain bike vacation, or a visit to the Nevada State Museum, the Governor's Mansion, or Capitol for a look at the area's history. That you can so readily find both in Carson is key to the area's popularity. For Kyle, having the mix is what he loves about the city.
"The year-round outdoor recreation opportunities, it's very easy to get around by foot or bike, and there are great trails throughout the city and open spaces," he answers when asked his favorite things about Carson. "And being so close to Lake Tahoe I can have multi-sport days, too."
"I have to live where there are a lot of outdoor activities, but if I had a second favorite it is the old historic architecture of the houses on the Blue Line walking tour and the government buildings. The historic downtown and west side is picture perfect and because we honor our history here, you can't help but feel connected to Nevada."
A BIG BUCKET LIST
A day trip to Carson City could include the Nevada State Railroad Museum, with exhibits featuring railroad equipment and historical objects, including the locomotives Inyo No. 22, the Glenbrook, and a fully restored McKeen Motorcar. Or perhaps you'd prefer to see the sights from above the city; a hike or mountain bike ride along the Ash Canyon Trail will do nicely. A tour of the capitol and legislature buildings provides a window into the state's history and future. Maybe a dip in the Carson Hot Springs is what your trip needs; the 121-degree mineral waters were first discovered in 1849, and are still today a comfortable and soothing respite.
Ready to head back indoors? Play at the Children's Museum of Northern Nevada, or take in the Nevada State Museum—housed in the original U.S. Mint building—it's home to the still-operational, original Coin Press No. 1, and America's largest exhibited Columbian mammoth found in Nevada's Black Rock Desert.
The list goes on and on. Whatever your pleasure, you can find your fill in Carson City, and if your tank runs empty, you'll easily find every kind of fare, from old-fashioned diners to exquisite fine dining. Not sure where to go? Ask a local and you'll likely be greeted with small-town hospitality.
"The people here are great. It's really easy to get into good conversation wherever you go," Kyle says. "It's diverse, too. Walking down the street you could pass the Governor, then a tattoo artist, and then a little old lady walking her dog. And everybody gets along!"
Joel agrees the locals are one of the city's best features.
"Although the population has more than tripled since my days growing up in Car- son City, the community values have not changed," he says. "You will often be greeted with a sincere handshake or simply a held door followed by 'have a nice day.'"
Carson City's convivial community has something for every visitor…even the ones who aren't always clear just how large our state is. When asked about his favorite tourist comments, Joel's answer is one most Nevadans can relate to, even if visitors can't. "The continued geographical confusion as to our proximity to Las Vegas is always amusing," Joel muses.
---
Nevada Magazine will visit one Nevada community per issue and present the town with a Tour Around Nevada plaque and commemorative cover. The towns covered are determined by reader vote! Send your vote to [email protected] with the town and "Tour Around NV" in the subject line. Ely, Las Vegas, Reno, Tonopah, Minden, Gardnerville, Virginia City, Laughlin, Elko, and Carson City are excluded. Voting for the March/April 2016 issue closes Friday, Jan. 15.