The power of the plant grows in southern Nevada.
BY KRISTA DIAMOND
"A lot of times when you go to a restaurant and you're a vegan, you are kind of treated as an afterthought," says Donald Lemperle. "But that's changing in Las Vegas." 
He would know. A vegan for 16 years, Donald is chef of VegeNation, a plant-based restaurant with locations in Downtown Las Vegas and Henderson. VegeNation serves flavorful fare that just happens to be meatless—not the other way around. Diners will find sun-dappled spaces that feel industrial and verdant at the same time. The eclectic menu, which contains everything from sushi to tacos to spaghetti, reads like an exceptionally comprehensive answer to the question "What should we have for dinner tonight?" 
There's American comfort food in the form of chicken pot pie gnocchi garnished with pie crust; classic Vietnamese pho loaded with seasonal vegetables; and pizza topped with vegan sausage, jalapenos, and pineapple. According to Donald, vegan diners will often eat at VegeNation several times in a single week while visiting Las Vegas. It's easy to see why. The menu makes it possible to have curry noodles one night and burgers the next, all while sticking to a plant-based diet.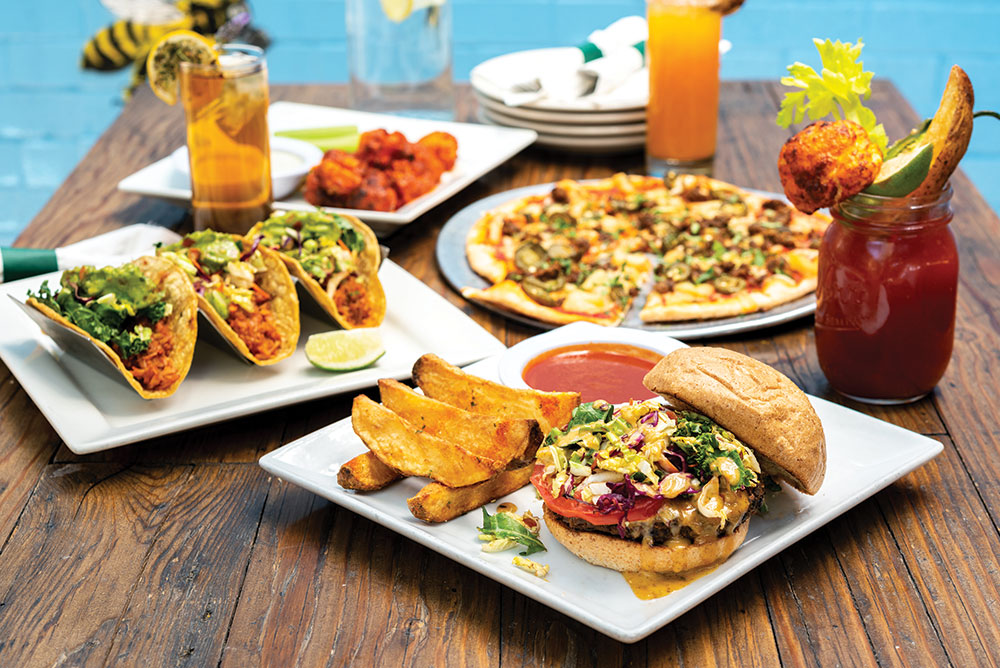 TAKING STOCK
Donald wasn't always a vegan. Originally from New York, it was while living in Scottsdale, Arizona, in 2005, that a diagnosis of multiple myeloma caused him to reevaluate his lifestyle. 
"It was really shocking because my children were still in junior high school and I was too young to die," says Donald. "I really examined my life and one of the things I looked into was eating a plant-based diet. The chloroform of green vegetables adds oxygen to the blood and oxygen is the enemy of cancer."
Donald quit his habit of drinking a gallon of diet soda a day and switched to green smoothies every morning. He also began exercising and meditating. 
"I really had to clean up my act," he says. "Everything's been fine since."

After relocating to Las Vegas, Donald opened VegeNation on Carson Avenue in 2015. At the time, vegan dining was not an often-heard phrase in Las Vegas. Travelers sometimes associate Las Vegas with decadent but often unhealthy dining choices. But such is the genius of VegeNation's menu, which is a far-cry from the diet of lettuce and sprouts that are stereotypically associated with vegan dining.
DELICIOUS CHOICES
"The menu is not health food," says Donald. "I don't pretend that it is. It's a spectrum of vegan food that's got really healthy, raw stuff and also chicken sandwiches and burgers that are still plant-based but aren't healthy."
The diverse clientele at VegeNation reflects this. On an average day, it's common to see devoted carnivores dining alongside vegans, digging into warm biscuits smothered with mushroom-based gravy for breakfast, fighting for the last buffalo cauliflower wing over lunch, and splitting baked Alaska made with local plant-based ice cream and toasted meringue for dessert. 
"I was nervous before we opened up," admits Donald. "I walked down Carson and the street was dark at night. Nobody was out there. It was a big risk, but fortunately we were very well received and we took off from the get-go."
PLANT POWER GROWS
Since then, the vegan dining scene has exploded in Las Vegas. Plant-based locals can easily find vegan and vegetarian options in their off-Strip neighborhoods, including Chef Kenny's Asian Vegan Restaurant (a favorite of Donald's) and Veggie House Vegetarian Restaurant in Chinatown; The Modern Vegan near the University of Nevada, Las Vegas; and Tacotarian in Rhodes Ranch. For tourists who prefer not to stray from the Strip and Downtown Las Vegas, options are still plentiful. There are strictly plant-based restaurants like VegeNation and Simply Pure plus omnivore establishments that offer vegetarian and vegan menus, including just about every restaurant at the Wynn and Encore, as well as SushiSamba at the Palazzo and Guy Fieri's Vegas Kitchen & Bar at the LINQ. 
The city also celebrates plant-based eating with a vegan dining month called Veganuary. Held in January, the event challenges Las Vegas restaurants to offer vegan menus in support of the Nevada Society for the Prevention of Cruelty to Animals. It's put on  by Vegans, Baby, a dining website run by Diana Edelman—author of "Vegans, Baby: Las Vegas Vegan Food Guide."
Another vegan dining event that has gained popularity in recent years is the annual Vegas VegFest. Held near Downtown Las Vegas at the Clark County Amphitheater, this free festival for both vegans and "veg-curious friends" includes vendors selling plant-based food, such as cinnamon rolls from Cinnaholic, pizza from Pinky's Up Gluten Free Pizza, and burgers from GFY Burgers and Fries. The September 2019 festival included a presentation on giving up dairy from Jodi Paige of Virgin Cheese, whose local, cashew-based artisanal cheeses are featured as a part of VegeNation's popular cheese board. 
Utilizing local Las Vegas products is a cornerstone of VegeNation's ethos. In addition to Virgin Cheese, Donald also offers craft beer from Las Vegas-based brewery Crafthaus, spirits from Las Vegas Distillery, and tea from Desert Bloom Eco Farm in Tecopa, California, which is in the nearby Mojave Desert between Las Vegas and Death Valley National Park. 
PLANTING A SEED
Donald doesn't just believe in sourcing locally. He also believes in growing locally. Through his involvement with the Southern Nevada nonprofit Create a Change Now, Donald sponsors gardens at local elementary schools. Children learn to plant and grow edible gardens at their schools and are then taught how to harvest vegetables and cook plant-based meals. Create a Change Now also uses produce from these elementary school farms as a part of an annual benefit dinner that invites local chefs to each prepare part of a five-course plant-based meal that rolls its proceeds directly back into the nonprofit's programs. This past year's event featured courses prepared by Donald plus Mario Tapia and Shane Stuart of The Green Heart, Kenny Chye of Chef Kenny's Asian Vegan Restaurant, Scott Pajak of Lagasse's Stadium, and Shayanne Nelson of Bleu Moon Bakery. 
"We are trying to generate a local food community here in Vegas," says Donald. 
For VegeNation, that means offering an affordable, approachable menu to locals who want plant-based options, tourists who want a break from pricey steakhouses and anyone who just wants a crispy Nashville-style chicken sandwich without the chicken. Donald is in talks with the T-Mobile Arena about opening up a kiosk which would make it possible for diners to enjoy plant-based food while cheering on the Vegas Golden Knights. He is also open to growing the VegeNation brand outside of Las Vegas. 
"We have people come in from all over and say, 'I need one of these where I'm from,' " says Donald. 
"There's a really big demand," he says. "People realize the food is good and it's a win-win for everyone. The environment, the compassion for the animals, and for yourself; to me it's the food of the future."
VEG OUT, DELICIOUSLY
–
616 E. Carson Ave., Suite 120
Las Vegas, NV 89101
702-366-8515
–
10075 Eastern Ave.
Henderson, NV 89052
702-527-7663
–
vegenationlv.com