Flower and fossil, song and soil, Nevada takes pride in its symbols.
BY MEGG MUELLER
There's a state locomotive? Indeed there is. While most people can name our state animal or state song, all told there are 22 official state symbols as designated by the Nevada Legislature. In addition to those above, our flag and seal round out the list. The seal was first designated in 1864 and was updated in 1866, when the motto was changed from Volens et Potens—willing and able—to All for Our Country. Our cobalt flag was not officially adopted until 1905, and since that time there have been four iterations of the blue flag. Our current design was adopted in 1991.
Each state has its own list of state emblems—some include an official dance, drink, oyster, and microbe—and Nevada hasn't adopted a new symbol since 2009. To have something reviewed for legislative consideration, Congressmen Mark Amodei says people should contact their state assemblyman or senator, who then would draft a piece of legislation and introduce a bill to recognize the item for its significance to the state. The bill then goes through the standard legislative process, needing to pass both Houses and be signed by the Governor before becoming law.
It's never a done deal, however. Congressman Amodei notes that in 2001, a sixth-grade class from Las Vegas attended a legislative session with a bill to make the Mustang Nevada's second state animal. After some contentious debate—including the late Senator Bill Raggio saying adding another animal would mean "pretty much we'll have a state zoo"—the bill died without passage.

It was the same legislative session where the state soil was designated, so you just never know.
"Nevadans are proud of their state, whether native or adopted," Congressman Amodei says. "Symbols are a big deal, whether it's animals, license plates, or fossils."
DID YOU KNOW?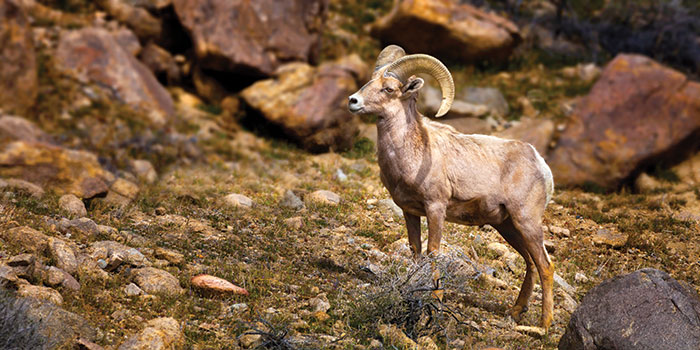 State song
The song "Home Means Nevada" was written by Bertha Raffetto of Reno. It was adopted in 1933. In 2014, it was discussed by the Sesquicentennial Committee that a second song—more inclusive of southern Nevada—be added, but it never happened.
State trees
The single-leaf Pinon—whose pine nuts were a staple of American Indian tribes—was designated in 1959, and the bristlecone pine was added in 1987. The Bristlecone is the oldest single living organism on Earth, and Great Basin National Park once had one that was almost 5,000 years old before being erroneously cut down.
State metal
Silver was officially given the title in 1977, and while gold production in Nevada is nothing to sneeze at, silver is still the most prolific mineral we mine.
State bird
The mountain bluebird was designated in 1967. It was also named state bird of Idaho in 1931.
State animal
The desert bighorn sheep became our state animal in 1973. These hard-headed sheep fought head-to-head, and combat between rams has been observed to last more than 24 hours at times.
State grass
The grass known as Indian ricegrass became the state grass in 1977. The seed of the ricegrass fed not only American Indians, but antelope, cattle, horses, and many birds.
State flower
The copious sagebrush became the state flower in 1959. Its proliferation around the state could be explained by the fact it relies mainly on wind for pollination.
State fossil
The prehistoric marine reptile known as the Ichthyosaur (genus Shonisaurus) was named in 1977. To read more about it check out the story on page 38.
Precious gemstone

The precious gemstone known as the Virgin Valley black fire opal was adopted in 1987, when Harry L. Wilson and wife, Joy, owners of the Royal Peacock Opal Mine near Denio spearheaded the movement to get the Virgin Valley black fire opal officially recognized by bringing a number of the stones to the legislature in Carson City. It worked.
State colors
The colors silver and blue—already used in the state flag— were officially chosen in 1983.
State rock
The beautifully colored structures in the Valley of Fire State Park are one obvious example of why sandstone was named the state rock in 1987.
Semiprecious gemstone
That same year (1987), Nevada turquoise—found across much of the state—was deemed the semiprecious gemstone.
State reptile
In 1989, desert tortoise was named our state reptile and as such it is illegal to mess with them. A good reason not to is a defense mechanism of the tortoise, if picked up or startled, is to urinate. Because the reptile can go up to a year without water, loss of this crucial fluid could kill it.
State artifact
The 1924 discovery in Lovelock Cave of 11 tule duck decoys that were more than 2,000 years old was a major influence on the decoy being named the state artifact in 1995.
State march
In 1997, high school teacher and band director Gerald Willis composed "Silver State Fanfare" for the Proctor Hug High School marching band to perform at the 1997 presidential inauguration. It was designated the state march in 2001.
State fish
Designated in 1981, the Lahontan cutthroat trout was all but extinct from the waters of Pyramid Lake in 1943. Fish from Summit Lake were reintroduced to Pyramid, and the population is now maintained by fish hatcheries.
State soil
The soil series known as Orovada makes great farmland when irrigated and covers much of the Great Basin. In 2001, it was named our state soil.
State tartan
A bartender at the Aladdin Casino in Las Vegas, Richard Zygmunt Pawlowski discovered while creating Nevada's state tartan that every color, every number of threads, every space has to mean something. It took two years to design, and it was officially designated in 2001.
State locomotive
The steam locomotive of the Nevada Northern Railway known as Engine No. 40—built in 1910—was named our state locomotive in 2009. The locomotive operated daily between Ely and Cobre until 1941.
State insect
The Vivid Dancer Damselfly—named in 2009—is similar to a dragonfly, but a daintier version with wings that fold the length of its body. The Vivid Dancer is found all across the state. Males are electric blue, while females are tan.
---
It's been eight years since Nevada designated a new state symbol, and while talk of making the Picon Punch the state drink, or adding a new state song pops up every few years, it's anyone's guess what might be our next official state symbol. Visit the Nevada Legislature at leg.state.nv.us for more facts about Nevada.