Red Rock National Conservation Area offers boundless beauty, plentiful wildlife, and miles of trails.
BY LORI SMITHSON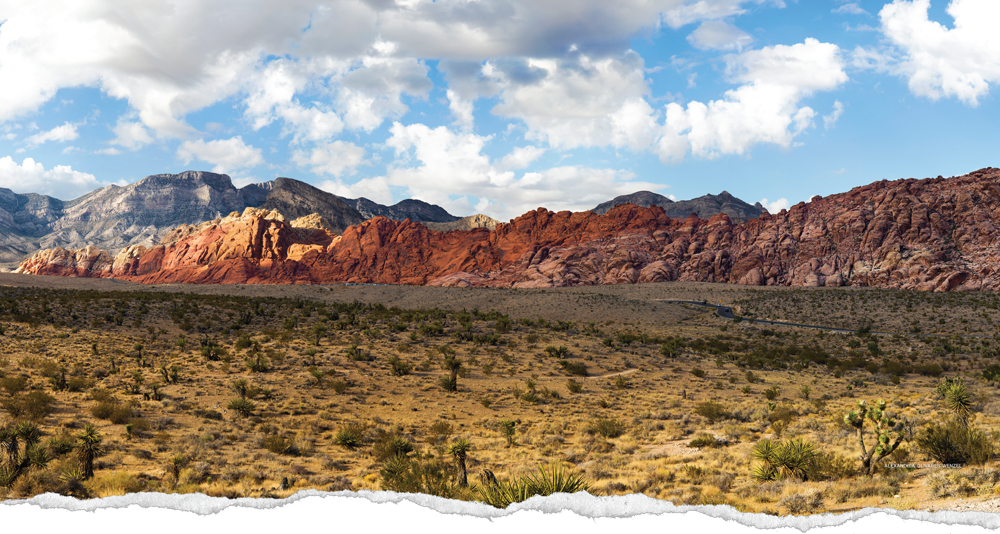 The Red Rock National Conservation Area sits on the west side of Las Vegas, just 14 miles from The Strip. A combination of wind and water over millions of years have shaped unique sandstone and limestone formations that provide recreation and memories. With 26 trails to choose from, Red Rock Canyon gives Vegas hikers of all ages a place to get outside. While not yet familiar with all of the trails, there are three that make me forget I live in the middle of Sin City.
CALICO HILLS
At Calico Hills, the first trailhead, enormous scarlet-, coral-, and biscuit-colored sandstone formations pile on top of each other like marshmallows squished together by giant hands. Nothing grows in these fantastical sandstone formations except the occasional bit of scrub brush and it is this contrast of elegant color and bleakness that make Calico Hills one of the most impressive hikes and most photographed sites in Red Rock.
PINE CREEK
Farther down the one-way road that winds through Red Rock, the Pine Creek trail is also very popular, but an early start ensures that hikers can beat the crowds. On this trail, old growth Ponderosa pine trees can be found near an icy creek with a meadow of dancing grasses and an old pioneer homestead just beyond the creek. Bees get drunk on the many spring flowers in bloom. Mescalito—a pyramid formation of black and red sandstone that points to the sky—teases hikers into thinking it is easy to reach but it is only after some serious rock scrambling that the more advanced trails are accessed. Most hikers never get that far. They don't need to. There's more than enough beauty at Pine Creek without scrambling up boulders to find more.

LA MADRE SPRINGS
Not as easily accessed as Pine Creek and Calico Hills, the La Madre Springs trailhead is reached only after a half-mile walk up a loose, rocky road. It is well worth the walk to hike the wild, dense La Madre wilderness. Juniper, willow, pine, and mesquite trees crowd each other for a place in the sun. Sandstone cliffs on the right and limestone cliffs on the left look close enough to touch. In early morning the only sounds are birds tuning up for the day. Desert fox and bighorn sheep hang out in this wild place and once, on this trail, a white deer and I startled each other, only one of us delighted with the encounter. At the end of the 3.6-mile trail, the La Madre Springs provides icy cold water to wet a neckerchief, soak tired feet, or watch for wildlife.
EXPLORE IT ALL
Red Rock Canyon hosts 500,000 visitors annually, many of them from out of town and unfamiliar with the desert. High temperatures and dehydration are a serious threat for inexperienced hikers and signs advise that copious amounts of water be carried. Coming off the La Madre Springs Trail one very warm morning, I stopped a red-faced elderly woman with binoculars around her neck and shoes more suited to mall walking than hiking.
"Are you ok?" I asked her. "Do you need water?" She assured me she was fine and had plenty of water. "I'm just a little out of shape for birding season this year," she said. "I've been coming here every year since I was a girl."
I watched her walk slowly up the steep trail, knowing that she had a challenge ahead of her and admiring her grit.
Red Rock Canyon lures Las Vegans and visitors alike to step outside the city and into a majestic panorama of adventure.
PLAN YOUR HIKE
Red Rock National Conservation Area
1000 Scenic Loop Drive
Las Vegas, NV 89161
redrockcanyonlv.org, 702-515-5350