Nevada's state-park system holds the key to finding space for all your adventures.
BY MEGG MUELLER
The National Park Service was established in 1916 as a means to preserve natural and cultural resources. Nevada's first state park was established in 1935, and in little more than six decades, more than two dozen distinct parks—from a historic schoolhouse to prehistoric rock formations, glacial lakes to charcoal ovens—have been created. Whether the adventure is watersports, hiking, camping, or a history lesson, Nevada has it all.
---
Before you visit, please contact Nevada State Parks for updated information on closures, restrictions, and requirements.
parks.nv.gov, 775-684-2770
---
BERLIN-ICHTHYOSAUR STATE PARK
Berlin-Ichthyosaur State Park takes center stage, and not just because it's the only state park in Nye County, but for the immensely important role it plays in Nevada history.
Established in 1957, the park is a hybrid; part ghost town, part ancient fossil grounds. Located 30 minutes from the town of Gabbs, the park is a bit remote but its view of the Ione Valley is majestic enough to make the drive.

Nevada State Parks defines Berlin as "preserved in a state of arrested decay," so the buildings are in exceedingly good shape. The Berlin Mill is the most impressive structure, and while you can't go inside there's plenty of ways to view the massive building that once housed a 30-stamp operation. Other structures include homes and shops.
Tours are self-guided and there are informative plaques at most buildings. Park rangers live onsite and there is a 14-site campground, along with a day-use and picnic area.
The park is also home to a collection of giant (up to 50 feet long) reptile fossils. The ichthyosaur (ICK-THEE-oh-sor) lived some 225 million years ago, and these marine reptiles were abundant in the ancient oceans that once covered central Nevada. The ichthyosaur was named Nevada's state fossil in 1977. The park's fossil house is built over one of the excavation sites and displays the remains of nine of the reptiles.
CATHEDRAL GORGE STATE PARK
The park was designated in 1935, but the volcanic structures date quite a bit earlier. It took tens of millions of years for the volcanic ash deposits to be created, then fractures in the bedrock took over and shaped the mountains and valleys. A lake formed, rains eroded the ash and pumice left from volcanic eruptions, and the debris washed into the lake. Over time, more faults occurred, the lake drained, and wind and rain took over to form the debris into the spires and buff-colored cliffs we see today.
Two hiking trails exist, and camping at Cathedral Gorge is first come, first served at the 22 sites. Two handicapped-accessible campsites are available as are restrooms and showers. A day-use area offers shade structures and picnic tables.
ECHO CANYON STATE PARK
Established after Echo Dam was built in 1970, the park has become a haven for water fun.
The 65-acre reservoir teems with wildlife and tempts fishermen. Boating the reservoir is a beautiful way to explore the park, as is camping in any of the 33 sites, or the 20 full hook-up RV sites. If you're not staying the night, grab one of the six picnic tables and barbecue grill sites by the water's edge. A 2.5-mile hiking trail offers a great look at the area from the valley rim before it drops into the picturesque Ash Canyon.
KERSHAW-RYAN STATE PARK
Kershaw-Ryan State Park is a wildly dichotomous place. Located just south of Caliente, craggy hills loom above a canyon that leads to an incredibly verdant valley. Natural springs and weeps in the surrounding rock have created an unexpected oasis.
Today, the child's wading pool, picnic areas, and a beautiful wedding location draw in day visitors. Campers can pick from 15 sites, and hikers can head to the back country on the 1.5-mile Overlook Trail.
ELGIN SCHOOLHOUSE STATE HISTORIC PARK
Nestled in Rainbow Canyon some 20 miles south of Kershaw-Ryan is the Elgin Schoolhouse State Historic Park. A one-room schoolhouse accommodated first-through-eighth grades from 1922 to 1967. Open only by appointment, the nearly 100-year-old building served the ranching families of the lower Rainbow Valley, and many original items can be seen.
SPRING VALLEY STATE PARK
The 65-acre Eagle Valley Reservoir at Spring Valley State Park is teeming with activity during the summer. Boating and swimming are popular, and fishermen are in abundance. Wait, they do that in winter, too. Ice fishing is big at the lake when it freezes over. Regardless the time of year, hiking on the trail around the reservoir is a great way to take in the valley that has attracted man since 5500 B.C. Mormon pioneers arrived about 1864 and some of their homes, including a stone cabin, still exist in the park.
BEAVER DAM STATE PARK
Beaver Dam State Park was designated in 1935, and is also the most remote park in eastern Nevada.
Structures built by the park's namesake can often be seen, in addition to so much wildlife the park has been designated a Watchable Wildlife Area. Camping and hiking are seriously advised; if you're going to take the trouble to get here, stay a while and experience one of the many trails.
SOUTH FORK STATE RECREATION AREA
The South Fork Valley, rich with vegetation and a consistent supply of water from the Upper Humboldt River, lured settlers in 1867. Located about 18 miles south of Elko, the setting is as picturesque as you'll find. And thanks to the establishment of the South Fork State Park in 1983, and the creation of the South Fork Dam in 1988, the valley now has a massive, 1650-acre reservoir chock full of fish and beckoning water sports enthusiasts.
By boat or along the ample shores, fishermen flock to the reservoir in all seasons. The abundant wildlife draws hunters in-season, and wildlife enthusiasts year-round. Camping is available at a 25-site campground—complete with restroom and showers—or along the southwest shore, primitive camping is allowed.
WILD HORSE STATE RECREATION AREA
About 89 miles north of South Fork sits Wild Horse State Recreation Area, home to another giant reservoir.
As popular in winter—despite frigid temps, or because of them—as it is in the summer, Wild Horse is ripe with wildlife. There is no hunting in the park, but the 34 campsites are a favorite basecamp. There are pull-through sites for large RVs, but no hookups.
Spring and fall offer the best chances for catching fish. Diehard ice fishermen flock to Wild Horse in the winter when fish are still plentiful but temperatures have been known to get to 20-below zero (and lower). Snowmobiling, skiing, ice skating, and sledding are other winter activities here.
CAVE LAKE STATE PARK
It may be a small lake, but Cave Lake State Park has big fun. The reservoir is 32 acres, but it packs in boating, fishing, swimming in the warmer months, and hosts ice fishing and ice skating in the winter, along with some wacky events.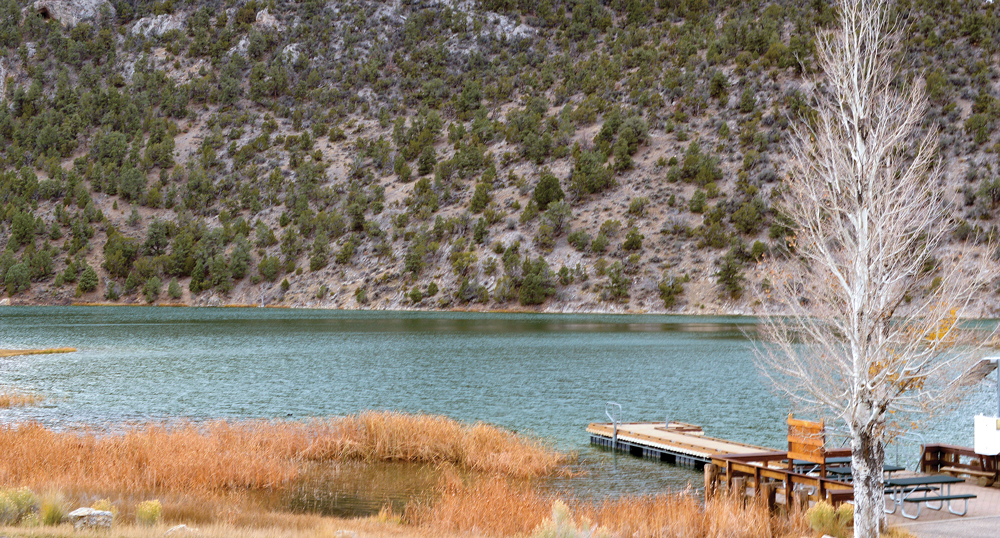 WARD CHARCOAL OVENS STATE HISTORIC PARK
On U.S. 50, about 30 miles east of Ely and tucked back in the Egan Mountains is Ward Charcoal Ovens State Historic Park. As you approach from the access road, six massive beehive-shaped charcoal ovens peek over the hills, and you know you're in for a different state park experience. The ovens date back to 1876, when they were used to turn pinyon pine and juniper into charcoal, which was crucial to the smelters used in ore processing for the nearby Ward Mining District.
WALKER RIVER STATE RECREATION AREA
Nevada's newest state park—Walker River State Recreation Area—is home to the usual assortment of scenic splendor, recreational activities, and abundant wildlife. At more than 12,000 acres, it is Nevada's fourth largest state park. The main entrance is at the Pitchfork Ranch, about 10 miles south of Yerington. From that point, it extends nearly 29 miles south along the East Walker River.
Park headquarters are at the Pitchfork complex, along with a visitor center and shaded picnic areas. A pond is used for kayak and water-safety training, and the park provides the equipment for the class. Kayakers with their own gear can take advantage of a 5-mile kayak run.
There are 16 dry campsites suitable for tents or RVs, each with a shaded table and fire pit. Both pull-through and back-in sites are available, and bathrooms and free shower facilities are available, as is a 7-mile wilderness trail.
DAYTON STATE PARK
Dayton State Park's 160 acres are situated in one of Nevada's oldest settlements. The park lives on both sides of Highway 50, and while it was once right on the Carson River, the flood of 1997 shifted the river's banks to the east away from the park.
On the west side of Highway 50 you'll find the remains of Rock Point Mill, which was built in 1861 to process ore from the nearby Comstock Lode. The main park is on the east side of the highway, and you'll find 10 campsites that can accommodate 34-foot long RVs, a park area with group-use facilities, and two trails. One trail wanders the Carson River, the other goes under the highway to the mill ruins.
FORT CHURCHILL STATE HISTORIC PARK
Fort Churchill was built in 1860—Nevada's first military outpost—for settler protection and to guard the Pony Express riders. The fort was in use for nine years, after which it was abandoned and the buildings sold. In 1957 it became a state park, and now remains in a state of arrested decay. Whether camping in one of the 20 sites or visiting for the day, start your trip at the visitor's center and museum. Visitors can learn about the soldiers that called the fort home. A self-guided path (wide and well graded) wanders through the adobe structures and you can drive to two different access points, making the park friendly for those with limited mobility.
RYE PATCH STATE RECREATION AREA
Rye Patch State Recreation Area is the sole state park in Pershing County, but this beauty can hold its own. Established in 1971, the focus of the park is the reservoir, which stretches 22 miles across the recreation area, and hosts a whopping 72 miles of shoreline. The park has two campgrounds with 47 sites and two day-use picnic areas. A boat launch on the west side supports the abundant fishing that is available year-round. Three short hiking trails showcase some of the shoreline beauty.
LAHONTAN STATE RECREATION AREA
Lahontan is one of northern Nevada's most popular places for boating and watersports, along with camping and day visits. There is just one developed campground, with on-beach camping allowed everywhere but the two day-use spots and boat ramp area. Fishing is strictly catch-and-release, and hunting is allowed but only in designated areas. The lake is practically surrounded by giant cottonwood trees, which provide sought-after shade and a nesting ground for bald eagles.
VALLEY OF FIRE STATE PARK
Nevada's oldest and largest state park, Valley of Fire State Park, was dedicated in 1935. Best known for its fantastic geological features, ancient petroglyphs, and extreme temperatures, the park easily hosts everyone from the most adventurous camper to the casual drive-through traveler. Located about 50 miles northeast of Las Vegas, the park has miles of trails, camping (tent and full RV hook-up), visitor center, and ADA campsites.
Look for Elephant Rock; the "bacon" wave; a wooden shack frame from the movie set for "The Professionals," Burt Lancaster's 1966 film; and abundant wildlife.
ICE AGE FOSSILS STATE PARK
Declared a park in January 2017, Ice Age Fossils State Park is set to protect and interpret 315 acres on the northern edge of Las Vegas and bordered by Tule Springs Fossil Beds National Monument. The park is rich in fossils, human artifacts, and scientific discovery.
The park's visitor center, trails, and interpretive programming are set to open this summer.
OLD LAS VEGAS MORMON FORT STATE HISTORIC PARK
Established as a state park in 1991, Old Las Vegas Mormon Fort State Historic Park straddles the line of downtown Las Vegas and North Las Vegas—seemingly plopped ungraciously between government buildings, the freeway, and the Cashman Center. Mormon Fort is a hidden gem that begs discovery.
Special programs include history talks, craft sessions for kids, campfires, Dutch oven cook-off, and Pioneer Christmas. The fort was home to one of the city's most influential pioneers—Helen Stewart.
BIG BEND OF THE COLORADO STATE RECREATION AREA
Opened in 1996, Big Bend wanders along the shore of the Colorado River just south of Laughlin. The shoreline is dotted with covered shelters, picnic benches, horseshoe pits, and sandy beaches. A 24-unit campground with mostly pull-through sites for RVs up to 60 feet is set back from the water. The parking lot for beach access is huge, the concrete paths to the shelters are extremely wide, and the boat launch has two lanes. The park is ADA friendly; three campsites are reserved for those with permits, parking, and beach access points are accessible for most, with rubber mats occasionally snaking toward the water.
SPRING MOUNTAIN RANCH STATE PARK
A huge park just 15 miles west of Las Vegas is also a historic center. Spring Mountain Ranch State Park was established in the 1870s as prospectors discovered six bubbling springs on the land, as had Paiutes, just outside the Red Rock Canyon National Conservation Area. The working ranch changed names a few times, and went through a host of owners—including Howard Hughes.
LAKE TAHOE NEVADA STATE PARK
The four areas—Sand Harbor, Van Sickle, Cave Rock, and Spooner Lake Backcountry—that make up the park cover much of the state's one-third of the lake, giving visitors ample access on the right side of the lake.
Sand Harbor State Park is Reno's closest access point to the crystal-blue waters. The day-use park is extremely popular thanks to its wide beach, ample parking, numerous restrooms, and accessible walkways. Summer days often see the parking lot fill to capacity, but a shuttle from Incline Village can still get you there.
Heading south, the next park is Spooner Lake. Spooner is a hiking, mountain biking, and equestrian paradise with more than 50 miles of trails, some of which connect to the Tahoe Rim Trail. Three walk-in campgrounds are available, and there are two backcountry cabins that can be reserved. Fish can be found in Spooner Lake, Marlette Lake, and Hobart Reservoir; each area has its own restrictions so be sure to check before you throw your line.
Further south is Cave Rock. A popular boat launch with 40 trailer parking spots, a rocky shoreline offers great fishing vantage points, a small beach area for swimming and launching kayaks and rafts, and three picnic areas with tables and barbecue pits are available year-round.
A bi-state park, Van Sickle is easily accessed from Stateline and its casinos. A short drive puts you in the middle of the forest, far removed from the lights of the casino corridor. Equestrians, hikers, and mountain bikers can connect to the Tahoe Rim Trail, or combine trails to fit their desired distance. Picnic areas and restrooms are available at the park.
WASHOE LAKE STATE PARK
Washoe Lake is located just minutes from Reno and Carson City. The area is a haven for waterfowl, even when the water isn't plentiful. From bald eagles to pelicans, the many hiking trails make for easy, wonderful bird watching all throughout the park. Anglers can catch catfish and Sacramento perch, among other species, and there are three boat launches for those ready to try their luck off the shoreline.
Campers can choose from 49 dry sites, some with shade structures and some large enough for 45-foot RVs. There are five day-use areas and there are two equestrian facilities—one day use, one for camping.
MORMON STATION STATE HISTORIC PARK
Nevada's first permanent non-native settlement—Mormon Station—was built in 1851 as a trading post to capitalize on the settlers heading across the Sierra Nevada Mountains. The original post burned in 1910, but was rebuilt in 1947 and is now a museum with pioneer-era artifacts. A monument to John A. "Snowshoe" Thompson is in the park as a memorial to the intrepid pioneer who delivered mail from Genoa to Placerville, California, braving snow up to 50-feet deep.
Nestled in the picturesque Carson Valley and town of Genoa, the park is a lush place for weddings, parties, barbecues, and simple day picnics. A large group pavilion can be reserved for up to 300 people, and there are also eight picnic tables and grills. Paved walkways make visiting the park easy for all.
ROOM TO EXPLORE
Nevada's parks ebb and flow with the seasons and the water they receive, and it means they grow and change so one visit is never enough. There is no better reason to explore than just because the parks offer a chance to get outside, get away from it all, and discover your wildest dreams.