View PDF
Thunderbird Lodge is a sight to behold. Even from the parking lot, visitors can't help but snap photos of the manor nestled amid pine trees and car-sized boulders. The summer home of a Depression-era millionaire, Thunderbird Lodge is lavish and remote. It is also a place of many secrets that, when revealed, help paint a picture of the mysterious man who built it. 
View PDF
Whether you've got the whole fam in tow or have your sights set on a romantic getaway for two, embark on a boating tour along some of the country's most famous waterways.
View PDF
In the year 1938, Lake Tahoe was a very different place than what we see today. The forests were recovering from being clear cut in the late 1800s; the highway was a narrow, winding road; and few people lived year-round in Incline Village. The first tunnel had been blasted through Cave Rock, improving access, but still a trip around Lake Tahoe was not a trivial excursion. This didn't stop a young photographer named Ansel Adams from making the trip.
View PDF
Mankind's natural curiosity for the mysterious and unexplained spans our entire history. Where is the lost city of Atlantis? Will we ever know the identity of Jack the Ripper? How were ancient sites like Stonehenge and the Great Pyramids constructed? Is Bigfoot real? What actually caused the dinosaurs to go extinct? Do aliens exist? Nevada holds its own collection of myths and mysteries, peculiar and unexplained. Some are morbid, some are silly, but all require the reader to take a small step—or leap, if you like—into a "Twilight Zone" mindset. Sit back, relax, and enjoy, because you've just crossed over.
View PDF
One year and 26 state parks later, the journey through our state parks is complete. Not intentionally, but perhaps appropriately, we began with Clark County and we end with Washoe, Douglas, and Carson counties. From south to north, east to west, the exploration of our historical and recreational parks has, I hope, been interesting and enticing. I know I learned more about our state parks than I could have imagined, and despite being thwarted by one park (I'm looking at you, Beaver Dam), I would happily do this adventure every year.
View PDF
If you were to stand on the shore of Pyramid Lake and gaze across seemingly endless miles of beautiful blue water, it would be hard to imagine that it could get any larger. But the northern Nevada lake was once part of a much larger body of water that dwarfed modern ones in size.
View PDF
80 years of mystery and magic surround Lake Tahoe's famed estate. BY MEGG MUELLER If the Internet had been around in the 1930s, the legend of George Whittell Jr. would far outshine the scandal-plagued celebrities of today. And while he was himself a raconteur, the adage would still be true; you can't believe everything […]
View PDF
STORY AND PHOTOS BY PETER MIRES This summer, I'm checking off a significant entry from my bucket list: I'm hiking the Tahoe Rim Trail (TRT). Although experiencing the entire 165-mile trail that circumscribes the mountainous perimeter of the Lake Tahoe Basin didn't make Patricia Schultz's popular book "1,000 Things to See Before You Die," it's […]
View PDF
Diving exploration team reveals the depths of famed ship's history. By RYAN HUGHES It took only 50 years for the Lake Tahoe Basin to transform from an untouched oasis into a bustling asset of the logging industry. When John Fremont first set eyes on the breathtaking views Lake Tahoe had to offer, there was nothing but […]
View PDF
Lone Eagle Grill LAKE TAHOE'S CELEBRATED DINING STAPLE IS ANYTHING BUT PREDICTABLE BY MEGG MUELLER Life is short; eat dessert first. — author uncertain Vanilla ice cream laced with toffee chips; a moist, gluten-free buckwheat brownie; and an expertly flambéed secret-recipe merengue towered atop an intricate molasses drizzle. Take a moment to let your brain […]
View PDF
New exhibition spans 200 years of art in the Tahoe region. BY JERI CHADWELL-SINGLEY "Tahoe: A Visual History" opened at the Nevada Museum of Art (NMA) in August. Four years in the making, this huge exhibition fills all 15,000 square feet of gallery space in the museum and features many privately held pieces that […]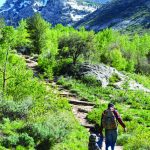 View PDF
There is a Cure for the Summertime Blues EDDIE COCHRAN FORGOT ABOUT THE SILVER STATE WHEN HE SANG HIS CLASSIC HIT. Summer vacation. Are there two words that bring more joy to a child, or more fear to a parent? Planning a trip to satisfy your brood can be downright daunting, but we're here to help. […]
View PDF
Right Place, Right Time STORY AND PHOTOS BY JOHN PELTIER Driving home along the east shore of Lake Tahoe, you usually see kayakers and paddle boarders cruising along the placid waters. It's not too often you see guys in wetsuits tackling 6-foot waves with their surfboards. That's what happened on Sept. 25 and it was […]
View PDF
Gunbarrel Tavern South Tahoe's newest eatery serves up high-caliber cuisine. BY ERIC CACHINERO Nestled neatly amongst the boutiques and cafes of Heavenly Village on Lake Tahoe's south shore is a dining experience sure to ignite your powder keg. Complementing perfectly the already stellar reputation of the area, the Gunbarrel Tavern & Eatery, the village's newest […]
View PDF
Zephyr Cove's family-owned Italian eatery is worth the occasional wait, got it? BY CHARLIE JOHNSTON After several weeks of Nevada Magazine Senior Graphic Designer Danny Miller bragging about how great the handmade "Ravs" at Zephyr Cove's Capisce? are, I could barely wait for our waitress to set them on the table before digging in to […]
View PDF
Jones-ing for Lake Tahoe Successful brothers share a love of the outdoors and a talent for energizing corporations from a podium. By Matthew B. Brown Dewitt Jones and his younger brother Terry have, in many ways, conquered the world. In his younger years, Dewitt bypassed Harvard Business School to join an adventurous group that kayaked […]