View PDF
For many of us, the days of maps and travel brochures sprawled across the table while we scribble on a notepad are gone. Replaced by websites, mobile maps, and travel apps, a new selection of on-the-go providers are ready to pave the way to your next adventure. 
View PDF
This story originally appeared in the January/February 1946 issue of Nevada Highways and Parks. Americans have at last emerged from the A-card era and entered the "fill 'er up" stage. The Great War has ended. Gas rationing is out, tires are much easier to get with good prospects for future supplies. New cars, with trimmer lines and post-war styles, are beginning to show themselves on the highways.
View PDF
Picture a uniquely diverse landscape spread out across 1.6 million acres. There's little water, few defined trails, and even fewer roads, but so much to explore. It's as close as 25 miles from Downtown Las Vegas, yet seemingly far away from the city lights and crowds. If you want to experience "a rugged sense of open space," the Desert National Wildlife Refuge may be for you.
View PDF
"Welcome home." They were the first words I remember hearing as I was received with open arms at the greeter station to participate in my first Burning Man. I was a Burning Man virgin in 2011 with no true concept of the weight of the words that welcomed me.
Visiting every state park requires a bit of forethought and sometimes a bit of luck. There are 21 listed in the official State Park Passport, but technically there are 26 if you split out Elgin Schoolhouse and the individual parks that make up Lake Tahoe State Park. And then there are the two new parks Governor Sandoval announced during his 2017 State of the State address—Tule Springs State Park and Walker River State Recreation Area.
View PDF
The National Park Service was established in 1916 as a means to preserve natural and cultural resources so they could be enjoyed for generations to come. Just 100 years later, America's more than 10,000 parks receive approximately 275 million visitors a year. Nevada's first state park was established in 1935, and in little more than six decades, we've created 23 distinct parks—from a historic schoolhouse to prehistoric rock formations, glacial lakes to charcoal ovens. Whether the adventure is watersports, hiking, camping, or a history lesson, Nevada has it all.
View PDF
ODYSSEY OF A GHOST TOWN EXPLORER FIFTH OF  SIX-PART  SERIES EXAMINES ABANDONED SETTLEMENTS IN NORTHEASTERN NEVADA. PART  5: THE JARBIDGE  RUNS  THROUGH IT BY ERIC CACHINERO "Eventually, all things merge into one, and a river runs through it. The river was cut by the world's great flood and runs over rocks from the basement of […]
View PDF
Motorcycle Madness The true flavor of Nevada comes alive on two wheels. STORY & PHOTOS BY SYDNEY MARTINEZ Having gone through, in, up, over, and around the Nevada backcountry on four wheels, I had decided that was just about enough. It was time to switch things up and check out the great state of Nevada […]
View PDF
Odyssey Of A Ghost Town Explorer PART  1: SKELETONS  OF HISTORY BY ERIC CACHINERO Ghost towns are skeletons of history. Though time has withered many away to the point of almost nothingness, even the most seemingly inconsequential heap of rocks and sticks tells a story: stories of hardship, stories of hope, stories that only the […]
View PDF
Tiny town serves as a perfect base for middle-of-Nevada roadtrip. BY MEGG MUELLER & ERIC CACHINERO There's a funny conundrum travel writers often face. We're tasked with discovering little-known gems and encouraging readers to feed their wanderlust and emulate our adventures. Except, we really don't want any of you to go to Kingston. OK, that's […]
View PDF
Central Nevada town proves it's more than just a stop along the way. BY MEGG MUELLER The draw of Tonopah has fluctuated over the years. As home to the second largest silver deposit in Nevada history, its importance as a mining town is undeniable. As the almost-exact halfway point between two of Nevada's largest cities […]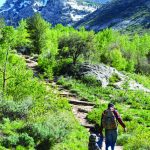 View PDF
There is a Cure for the Summertime Blues EDDIE COCHRAN FORGOT ABOUT THE SILVER STATE WHEN HE SANG HIS CLASSIC HIT. Summer vacation. Are there two words that bring more joy to a child, or more fear to a parent? Planning a trip to satisfy your brood can be downright daunting, but we're here to help. […]
View PDF
Like a Rolling Stone EIGHT GREAT THINGS TO DO IN BOULDER CITY THAT AREN'T JUST SOME DAM JOKE. BY ERIC CACHINERO I must admit that I knew very little about Boulder City before visiting—an inexcusable realization considering the town's importance to United States and Nevada history. Boulder City was once at the heart of one […]
View PDF
Outpouring of votes shoots diverse eastern town to No. 1 spot. BY MEGG MUELLER When the votes were counted and Ely was revealed as the first winner of the Tour Around Nevada 2015, no one in the Nevada Magazine office was surprised. Not only did Ely take honors in our 2010 Tour Around Nevada campaign, […]
View PDF
A hearty dose of central Nevada is good for the soul BY MEGG MUELLER & ERIC CACHINERO A series of unexpected and delightful moments. This is the appeal of a ridiculously long roadtrip. For our latest adventure, Associate Editor Eric Cachinero and I chose another ambitious trip. Last September, we wrote about our trip to […]
View PDF
SLOAN CANYON Petroglyphs paint a glimpse of ancestral southern Nevadans. STORY & PHOTOS BY GREG MCFARLANE It's hardly a secret that Las Vegas is the definitive destination for gambling and entertainment; not to mention cuisine and nightlife. But…prehistoric rock art? Sloan Canyon—a mere 13 miles south of the Las Vegas Strip—contains one of North America's […]